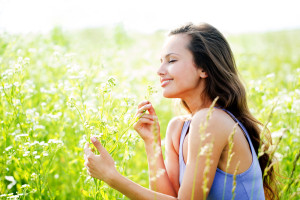 The summer season is one of smiles and sunshine, and though it may not seem so at first, the two are more closely related than you might think. When the sun's light hits your skin, it stimulates your body's production of vitamin D; an essential component of many of your body's vital functions. One of the most important duties of vitamin D is to help your body absorb and metabolize calcium, which your teeth, gums, and jawbone rely on to remain strong and healthy. As the brightest time of year gets into full swing, your Celina family dentist, Dr. Newton, advises soaking up a healthy amount of sunshine, and smiling often in the process.
What Do Vitamin D and Calcium Do?
The components of your smile are unique, but in many respects, they're also much like any other part of your body. For instance, your teeth and gums require a consistent supply of minerals and nutrients to maintain they're strength. Among those nutrients is calcium—one of the major minerals that make up your bones and teeth. Since your body doesn't create calcium naturally, it must be ingested through your diet, and vitamin D allows your body to absorb and utilize it.
Sunshine and Good Hygiene
Many foods, like green leafy vegetables, can provide you with a decent amount of vitamin D as well as moderate doses of sunshine. Still, maintaining a healthy, bright, and beautiful smile also requires you to practice good hygiene, such as brushing and flossing your teeth at least twice every day and limiting the amount of sweet, sugary foods and beverages you consume throughout the day. For maximum results, be sure to visit Dr. Newton at least once every six months for a routine dental checkup and cleaning, and advice on how to improve your hygiene practices at home.
ABOUT YOUR CELINA DENTIST:
To learn more, schedule an appointment with Dr. Newton at Celina Family Dentistry by calling (214) 851-0130. Located in the 75009 area, we serve patients of all ages from Celina, Prosper, McKinney, Frisco, Anna, Pilot Point, and the surrounding areas.