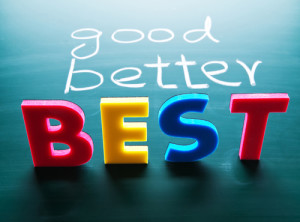 We all have different ideas about what makes a person beautiful, but you can bet that a gorgeous smile is high on the list. Dr. Angela Ganjoor, a Celina, TX cosmetic dentist, provides several treatment options designed to enhance or altogether transform your teeth into the smile you've always wanted. Better still, it's possible to do so without breaking the bank. Here, she outlines smile-enhancing treatments for every budget.
Good: Professional Teeth Whitening
Teeth whitening is the most popular cosmetic dental treatment in the country, a fact that Dr. Ganjoor attributes to its affordability and accessibility. Compared to over-the-counter whitening toothpaste and rinses, professional treatment delivers more consistent, noticeable results while avoiding problems like tooth sensitivity and gum irritation. We offer two options, allowing you to whiten your teeth quickly in our office or in the comfort of your home. Teeth whitening is ideal for light to moderate staining, such as discoloration caused by coffee, tobacco, or red wine.
Better: Snap On Smile
Sometimes whitening isn't enough to restore your smile to its full potential. Snap-On Smile, an affordable alternative to veneers, does more than just cover resilient stains. Like veneers, Snap-On Smile subtly masks cracks, chips, and oddly spaced teeth. Some patients use Snap-On Smile as a trial run before investing in veneers. The thin, flexible prosthetic fits snugly over the top or bottom arch so that your own teeth are all but hidden. It's perfect for those who want beautiful teeth but are not yet ready to invest several thousands of dollars.
Best: Porcelain Veneers
The Holy Grail of cosmetic dentistry, porcelain veneers can be seen on red carpets, runways, political fundraisers, and sold-out concerts—anywhere in the spotlight. Carefully sculpted from ultra-thin layers of translucent porcelain, each veneer has the ability to improve the shape, size, and shade of the tooth. A popular choice for those who wish to address multiple minor cosmetic defects all at once, veneers are used to mask gaps, crookedness, stains, and cracks. Bonus: Porcelain is naturally stain-resistant.
Considering cosmetic dentistry in Celina, TX? To learn more about our services, or to schedule an appointment with Dr. Angela Ganjoor, contact us at 214-851-0130. We welcome residents of Celina, Prosper, Wylie, Allen, Dallas, and the surrounding areas.