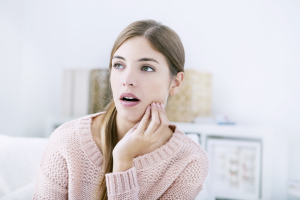 Wondering why your teeth feel so sensitive? Tired of dealing with tender jaws? You may suffer from teeth grinding, also known as bruxism. This disorder may result in a variety of uncomfortable side effects, including stress on your jaw joints. The good news? By seeking out bruxism treatment with your dentist, you can improve your daily comfort. Learn more about this disorder to discover whether treatment may give you the relief you seek.
What Is Bruxism?
Bruxism is a clinical term for teeth grinding. This means that you clench your teeth together and move them back and forth as a matter of habit. You may not even realize you're doing it. Some people grind their teeth during the day while many do it during sleep. The problem with bruxism is that it causes discomfort and may damage your teeth, as well as surrounding supportive structures.
The Common Symptoms
Common symptoms may let you know you are suffering from this problem, which signals you to visit your dentist right away. Fortunately, bruxism treatment is considered preventive because by catching the disorder early, you can prevent associated long-term damage. Look over the following symptoms for a clearer idea of whether bruxism affects your oral health:
Teeth grinding or clenching
Loose, fractured, or broken teeth
Worn tooth surfaces
Tender or tired jaw muscles
Sore jaw joints or TMD (TMJ disorder)
Tongue indentations
Chronic mild headaches
Sensitive teeth
About Treatment
Treatment is simple and noninvasive. Your dentist will suggest oral appliance therapy, which means you will wear a mouth guard while you sleep at night. The guard will gently reposition your jaws, while cushioning your bite. This will prevent you from grinding and clenching your teeth, and it will provide relief to your jaw joints.
About Your Celina Dentist: 
To learn more about how our treatment options can help you achieve the healthy, beautiful smile you've always wanted, schedule an appointment with Dr. Angela Ganjoor at Celina Family Dentistry by calling (214) 851-0130. Located in the 75009 area, we serve patients of all ages from Celina, Prosper, McKinney, Frisco, Anna, Pilot Point, and the surrounding areas.