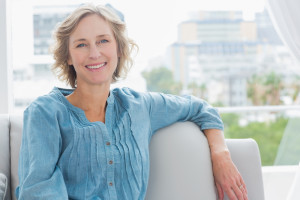 Patients suffering from tooth loss may also feel at a loss regarding what to do about their missing teeth. You may find that you feel emotionally down about your appearance, which can have a significant effect on your social calendar and your daily emotional comfort. In addition, dealing with missing teeth may make your day-to-day functioning difficult. Rather than waiting another moment, we encourage you to learn more about dentures. Appropriate for nearly every patient, this prosthetic can quickly complete your smile, while restoring your daily quality of life.
Denture FAQs
What Are Dentures?
A denture is a removable prosthetic that will replace your teeth. Edentulous patients – or those missing all of their teeth – will benefit from complete dentures. Built on a pink high-quality acrylic base that supports white acrylic or porcelain teeth, it will rest over your top or bottom dental ridge, replacing a complete series of teeth. A complete denture relies on natural suction in your mouth for support.
If you suffer from multiple missing teeth to severe tooth loss, we may suggest a partial denture. Similar to the complete version, it includes a small amount of pink acrylic, replacement teeth, open spaces that rest around your remaining teeth, and metal clasps that rest securely over your remaining natural teeth for support.
Why Should I Choose Dentures?
Replacing your teeth is important – and something you can efficiently accomplish with budget-friendly dentures. You can expect the following benefits from this decision:
You will enjoy a complete smile for improved confidence
You will be able to chew comfortably again for improved nutrition and the ability to enjoy your meals
Replacing your teeth gives you the ability to speak clearly again
Restoring the interior framework of your mouth – your teeth – supports your lower face to prevent your teeth from sinking in or your facial muscles and features from sagging for a rejuvenated appearance
ABOUT YOUR CELINA FAMILY DENTIST

:
To learn more, schedule an appointment with Dr. Newton at Celina Family Dentistry by calling (214) 851-0130. Located in the 75009 area, we serve patients of all ages from Celina, Prosper, McKinney, Frisco, Anna, Pilot Point, and the surrounding areas.