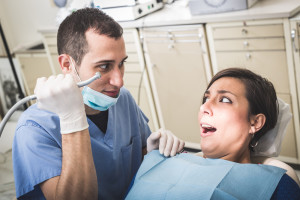 Statistics show that between 30 and 40 million Americans are afraid of the dentist. There are different levels of fear.  There is anxiety and there is dental phobia. Dental anxiety tends to be a general feeling of uneasiness due to unfounded fears or worries when it comes time to visit the dentist. Dental phobia is a more intense fear or dread. Patients with dental phobia can experience panic and be literally terrified when faced with a dental appointment. Are you afraid of the dentist? If you are, you are not alone.
No Need To Be Afraid
Aware that dental visits can be scary for their patients, the staff at Celina Family Dentistry works diligently to make patients feel comfortable and at ease. Not only is the staff warm, approachable, friendly, and caring, the office is set up to feel like home. Patients can help themselves to a drink at the beverage station, play games on their iPhones, or surf the net on their laptops with free WiFi access. Patients can also take their minds off of treatment by watching TV or videos during treatment procedures.
Sedation Dentistry
We also offer sedation dentistry. Caring for your teeth is important. Research indicates that a healthy mouth is a healthy body. With sedation, even the patient who has avoided the dentist for years can receive treatment in complete comfort. If you experience any of the following, sedation dentistry may be the right choice for you:
Haven't visited the dentist in years
Experience dental anxiety
Experience dental phobia
Have a fear of needles
Experience emotional discomfort at the sights, sounds, or smells of a dental office
Choose to have more than one procedure performed during your visit
Have difficulty sitting for long periods of time
Find it difficult to hold your mouth open for long periods of time