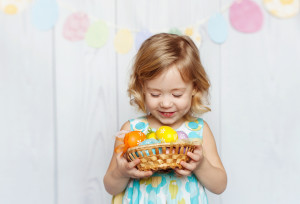 What parent doesn't love the look of joy on a child's face, when tearing into an Easter basket or the excitement experienced when opening a plastic egg to find hidden treasure inside? Of course, that ecstatic smile could seem short-lived if too much sugar leads to a cavity. This year, instead of filling your kids' Easter baskets with chocolate, marshmallow bunnies and lots of other sugary treats, why not give them gifts and toys they'll be able to enjoy long after Easter morning. These children's dentist-approved alternatives to traditional basket fillers, are smile-friendly and still lots of fun!
What Smile-Friendly Items Can You Give Your Kids?
Games, puzzles, and other toys make great Easter basket gifts. You can find inexpensive options in the dollar section of many stores, including seasonal items like stuffed bunnies, lambs or other spring-oriented animals.
Coloring books are another fun addition for young children, as are bubbles and sidewalk chalk. These also happen to provide excellent entertainment for lovely Easter afternoons, and can be especially handy for long drives home from the grandparents.
For filling those plastic eggs, consider small action figures, coins, stickers, or sugar-free treats like chewing gum (for kids that are old enough to chew responsibly). Not only are all these treats sugar-free, the gum can actually be beneficial to young smiles, as it helps produce plaque-fighting saliva!
If you do decide to give your kids some candy, it's best to let them enjoy it at a time when they can quickly brush their teeth afterwards. This helps limit how much time the sugar spends in the mouth, which is great for cavity-prevention.