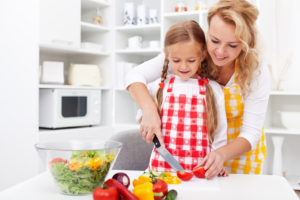 Now that your kids' schedules are jam-packed with school activities, you might feel like you are spending more time in the car than you are at home. This often leads to lapses in healthy diets, and an over-reliance on packaged foods and drive thrus to keep your family fed. Unfortunately, over time, this can pose a serious risk to your family's dental health, especially if the foods you are fueling up on are high in sugar. To prevent dental problems, like cavities, it is important to eat healthy foods that are good for your family's smiles.
Skip the Sugary Treats and Give Them Healthy Fuel
One of the best things you can do, to protect your kids' oral health, is to send them to school with healthy foods instead of overly sugary treats. Snack time is also a great opportunity to make sure your kids are getting adequate nutrition, and not causing dental damage through over indulgences in sugar.
So, what are healthy foods your kids will actually eat? Dentists and medical doctors, alike, advise a diet rich in vegetables and fruits. Fortunately, with some simple tips your kids might actually grow to love them!
Celery and carrot sticks might seem boring, at first, especially compared to potato chips and crackers, but you can help make them more flavorful with healthy dips, like peanut butter, hummus, yogurt-based ranch dip, or even cheese.
Oranges, apples, bananas, and many other fresh fruits are already portable, making them great on-the-go snacks. Best of all, you can keep them on the counter, and encourage kids to grab them for themselves when they're feeling hungry, helping them to build healthy habits.