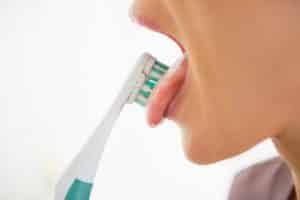 The thought of brushing your tongue as part of your dental hygiene might feel very unfamiliar to you. However, that doesn't mean that it isn't something you should be doing. The truth is, we suggest that you clean this part of your oral system every day! To help take the edge off of any shock you might be feeling (and to ensure you know what to do from here on out), we suggest you take our advice seriously!
Why Brush Your Tongue?
The reason you should brush your tongue is very simple: Like your teeth and gums, this part of your oral system often traps bacteria (in addition to any little leftovers from food and drinks after you consume meals). Keeping such debris off of your tongue means a healthier smile and a greater ability to keep breath fresh as ever!
How To Brush Your Tongue
Fortunately, brushing your tongue is very easy. The simplest way to proceed is to do your usual thing with dental hygiene, just include your tongue, too. You don't need to perform any serious scrubbing. You just need to sweep the bristles from the back (near your throat) to the front (the tip of your tongue). Sound weird? Try a tongue scraper instead, which is available at your local drugstore.
When To Brush Your Tongue
Do this every day, at least once a day, as part of your dental hygiene routine. You are free to do it twice daily, of course, as you brush. However, making sure you keep your tongue clean once on a daily basis will suffice!
Review Dental Hygiene Details During Visits
Find out if you're on track with your dental hygiene and if there's anything you could improve by asking about it during visits. Get the information and treatment you need in Celina, TX by contacting Celina Family Dentistry to schedule a visit today at (214) 851-0130.