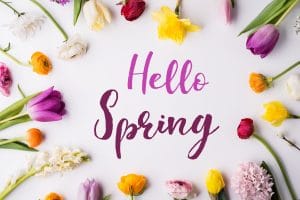 Spring is here and that means summer is near! In terms of dental care, that means you might be thinking about making improvements to your smile (so you're ready for all things party and wedding related), it means it's probably time for your next dental checkup, and it means you probably really don't feel like coming in because the weather is so nice! However, you should most certainly see our Celina, TX team as soon as you can for your twice-a-year visit and we're happy to remind you of some lovely benefits of doing so.
Benefit #1: You Can Begin Planning For Cosmetic Care
What's that you have secretly been thinking to yourself in terms of spring and summer? Do you wish you had already spoken with us about your smile because cosmetic care would certainly have you poised and ready for all that the warmer temps promise in terms of social time? Well then! Schedule a dental checkup! You might be surprised by how quickly you can find yourself finished with a cosmetic treatment and beaming with the beautiful results.
Benefit #2: You Can Make Sure Your Smile Is Ready For Fun
What have you had to duck out of, wave away, or say "no thank you to" lately because of your smile health? Do you have some pain in your tooth causing you to skip your usual dessert? Is your morning iced coffee causing sensitivity? If you aren't living your happiest life because your smile concerns are causing you to avoid the things you love, then it is time right now to schedule your dental checkup. You'll have the treatment suggestions you need in no time!
Benefit #3: You Can Check It Off The List
It feels like just days ago, we were talking about the New Year and resolutions and how exciting it is to have a clean slate, especially when it comes to your oral health! However, as the days drift on, we wave goodbye to winter, and say hello to spring, it's easy to fall into old habits or to let procrastination get the best of us! Since we're still in the first half of the year, our team reminds you that by scheduling your dental checkup this spring, you will still be on track with your prevention! That way, you can check this all-important detail off the list, as you give yourself a pat on the back and enjoy this beautiful season stress- and guilt-free!
Schedule A Springtime Visit Soon
Don't wait any longer! Instead, contact our team just as soon as you can to get your springtime dental checkup on the books. Remember, keeping up with preventive dental care is easy and extremely effective. Get the information and treatment you need in Celina, TX by contacting Celina Family Dentistry to schedule a visit today at (214) 851-0130.