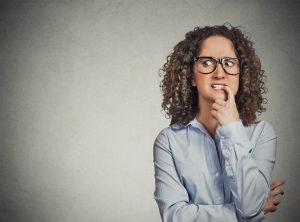 Yep, we know that your emotions play a big role in the choices that you make. However, when it comes to the negative emotions that can come into play, we remind you that it can be like playing with fire when you let them fuel your decisions! Instead, our Celina, TX team encourages you to try to take an educated approach to your smile care, asking yourself logically what your smile needs and what will work best for you! Consider some helpful examples and you'll see just what we mean. Ready for a visit? Just call us!
Guilt Leads To Avoidance Of Care
When you're feeling guilty about missing out on essential dental care that you know you need, you would think that feeling bad would give you the motivation to fix things by calling our practice to schedule a dental checkup! However, this emotion often simply causes patients to retreat because the longer they wait, the more inclined they are to hide! Don't feel embarrassed! Instead, feel empowered and come in. We won't judge you! We will, instead, be happy to help you get caught up.
Feeling Bad About What You Want Causes Confusion
Maybe you really want dental implants but you feel like you should just settle for a bridge. Maybe you were really in love with the idea of porcelain veneers for your cosmetic dental care but you feel like you should just go with whitening. When you feel bad about what you really want, you may cause yourself to feel uncertain about what to do, which can lead to inaction. Remember, selecting what's best suited to all of your needs is always the way to go! Learn more by seeing us.
Nervousness May Make You Less Confident
When you are nervous about smile care, the first thing we ask you to do is talk to us. Ask us questions. Allow us to help you feel less nervous. Maybe you're worried that a particular type of treatment will be uncomfortable (remember, we always put your comfort first!). Maybe you're nervous that you've made a wrong choice or you just need more information. Whatever the case may be, remind yourself that when you have all of the information and you've talked the details through with the professionals (that's us!) you can gain a renewed sense of confidence in your decisions, which is extremely important! Make the experience fun.
Enjoy Making Good Smile Choices
Make effective choices for your smile by considering the decisions best suited to the needs of your unique requirements. By scheduling a checkup with us, we can quickly help you learn more about what will work for you. Get the information and treatment you need in Celina, TX by contacting Celina Family Dentistry to schedule a visit today at (214) 851-0130.