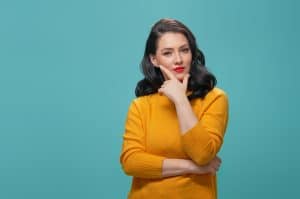 Of course, there are many different attitudes you may have, even over the course of one day, toward your oral health. With that said, our Celina, TX team would like for you to take into consideration the fact that when you lean toward the positive end of the spectrum, choosing to feel optimistic, motivated, and invested in keeping your smile on track by remaining dedicated to suggested dental care, it generally helps promote optimal smile health! Why is that, you wonder, and how might a less positive approach negatively impact your ability to maintain healthy teeth and gums? Let's explore some possibilities.
Uncertainty Leads To Procrastination
Uncertainty within your world of dental care may refer to a long list of things. Maybe you feel unsure about when you schedule your dental cleanings and checkups and, as a result, you put them off. Perhaps you aren't really sure about how to brush and floss correctly but you're embarrassed, so you don't bring the question up when you see us. Remember: The more educated and informed you feel, the easier it is to follow through on scheduling visits and practicing effective care. Long story short: Visit us any time you feel you need dental care or answers, and call us if you have questions about scheduling, so smile protection becomes much easier.
Indifference Leads To Damage
Now, let's talk about the opposite of feeling dedicated to your dental care: Perhaps you feel indifferent. You've heard that it's something you should do but it's easier not to feel bothered about it. Unfortunately, when you aren't fully committed to your brushing, flossing, and visits with our team, this will create an environment in which plaque and tartar build up on your smile. Of course, it's easy to say, "Oh, I'm just not worried about it!" However, damage and disease will eventually occur, which will require restorative dental care. Remember, just simple dedication to your care will allow you to instead maintain excellent oral health!
Confidence Leads To Success!
Let's say you decide to take the time to come in to talk with our team about your smile and how to approach caring for your oral health. You've learned that you should schedule preventive care twice a year and that you need to brush and floss daily. You've gotten all of your questions answered. The result? You feel confident, so taking care of the details and knowing what to do (and why!) is so simple. If you don't feel 100 percent confident at the moment, come on in!
Gain Confidence In Your Dental Care
When you're in doubt about how to care for your smile or you are having trouble keeping up with a short- and long-term routine, remember to visit our practice. See us for guidance soon! Get the information and treatment you need in Celina, TX by contacting Celina Family Dentistry to schedule a visit today at (214) 851-0130.