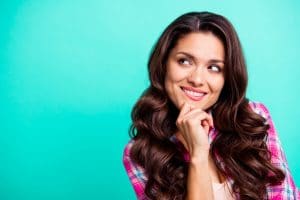 How much time and effort will cosmetic dentistry involve if you want to make a meaningful change to the way you look? If you have more than one problem with your smile, or if several of your teeth are in poor condition, you may find yourself scared to even start the process of improving the way you look. What you should know is that our Celina, TX dentist's office can make big changes to your appearance with porcelain veneers. Veneers are slim restorations that require minimal preparatory work for your teeth. Because they can take care of multiple cosmetic issues, it is possible for your dentist to address several concerns in the course of this one treatment!
You Can Address Many Different Flaws With Porcelain Veneers
How many smile concerns can dental veneers really address? With a dental veneer, your dentist can restore a tooth that looks, damaged, discolored, or misshapen. It is sometimes possible to hide alignment flaws with these restorations, so they can help you avoid orthodontic work. With their ability to address more than one problem, veneers can help you hide multiple problems – once placed, they can give you an exciting smile makeover!
How Do Veneers Make Changes To Your Smile?
Veneers are shaped and tinted to mimic the appearance of bright, healthy teeth. While dental crowns cover an entire tooth above the gum line, a veneer is made to cover the front of a tooth only. This partial coverage is effective at hiding any visible problems, so your restored teeth appear blemish-free, healthy, and ideally shaped.
Reviewing Your Different Options For Smile Care
Because they can do so much for your smile in the span of a single treatment, veneers can be great for you if your goal is to enjoy a smile makeover. With that said, you can do more than just receive veneers in order to improve your appearance! For difficult teeth stains, we can recommend a teeth whitening treatment. This will not require any changes to your tooth structure, but it can target the stains that have accumulated in your enamel and dulled your smile. If you want to make changes by directly addressing poor smile alignment, we do offer clear braces for patients who want the results of orthodontic treatment without metal braces.
Talk To Celina Family Dentistry About Receiving Veneers
At Celina Family Dentistry in Celina, TX, patients who are interested in restoring their smile can be interested to know more about porcelain veneers! With veneers, we can help you make your teeth appear brighter and healthier, while also covering up any gaps or overlaps present. To find out more, you can contact Celina Family Dentistry at (214) 851-0130 today to schedule a visit.