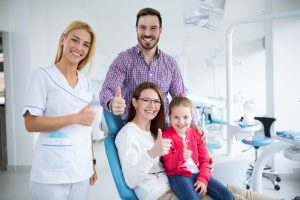 At our Celina, TX dentist's office, we recognize that some of our patients have a better understanding of oral health care than others. In particular, our youngest patients can require guidance on why they need to be brushing and flossing, and generally keeping their teeth safe from cavities. Because our practice provides care to patients of all ages, we can welcome you and your children for important preventive dental services. When it comes to caring for kids, we can keep them safe with cleanings and evaluations, as well as updates about the development of their oral structures.
Our Practice Can Provide Important Preventive Care For Kids
Is your child's smile more vulnerable to cavities? Tooth enamel is remarkably strong, even at an early age. Because of this, kids generally enjoy the natural defense against tooth decay that adults do. With that said, younger kids can be at risk for cavities because they are still learning how to properly brush and floss, and because they can find candy and other sugary products more tempting. As a result, they may have a harder time preventing troubles with their oral health without guidance.
Sealants Can Provide Extra Protection For Teeth
At the appropriate time, your dentist can advise placing sealants on your child's teeth. Sealants create a new level of defense for enamel – this clear plastic film is coated over the surfaces of teeth in order to keep bacteria and food debris from accumulating. While kids should still put in the same level of effort to brush and floss after they receive sealants, this treatment can give them added protection so they are less likely to need a dental filling or dental crown in the future.
We Can Provide Smile Care For Patients Of All Ages
We are prepared to keep everyone in your family safe from tooth decay, gum disease, and other problems that can affect a person's smile. For kids, we offer instructions on brushing and flossing, general information about oral health, and dedicated cleanings and evaluations. Adults can enjoy routine dental care to keep them safe from tartar buildup, tooth decay, and other concerns. We can also watch for the signs of bruxism. This condition, which results in chronic teeth grinding, can lead to serious dental damage if it is not addressed!
Your Kids Can Enjoy Important Smile Care At Celina Family Dentistry
At Celina Family Dentistry in Celina, TX, everyone in your family can enjoy dedicated preventive dental services. For our youngest patients, we can provide routine care in addition to dedicated support to help them understand why they should do their best to protect their smile. If you are ready to make an appointment with us, or if you have questions about a particular service or oral health issue, contact Celina Family Dentistry at (214) 851-0130 today!