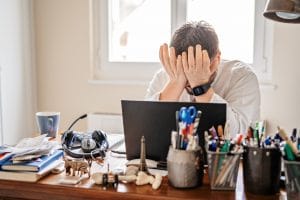 When you experience episodes of stress in your life, it may become difficult for you to make sure that your teeth are receiving effective care. Of course, this is just one of many areas in your life that stress can affect. You may have a harder time with your general health, you can struggle with proper sleep, and you can have issues with your mood because of periods of stress. With that said, it is important to recognize the different aspects of your life that might be affected during times of difficulty and unease. Our Celina, TX dentist's office encourages patients to keep up with good oral hygiene on a daily basis in order to prevent problems like tooth decay and gum disease. When you deal with stress effectively and prevent it from interfering with your life, you can have an easier time avoiding these issues as well as problems with bruxism.
Stress And Its Impact On Your Oral Health Care Routine
Stress can interfere with your oral health in ways that surprise you. If you are particularly busy, or frequently changing your schedule, you may fall out of good brushing and flossing habits. You can also begin grinding your teeth because of stress. The damage from teeth grinding can be serious enough to require the placement of dental crowns, or it can lead to unfortunate changes in the appearance of your smile.
The Link Between Stress And Teeth Grinding
Stress is one of several issues that may cause a person to begin grinding their teeth during the day, or while they sleep. If you notice that your jaw is clenched during the day, consciously relaxing it can help. So what can you do about nighttime teeth grinding? If the problem threatens to hurt your smile or damage your enamel, a custom oral appliance can help. You can take action to reduce your risk on your own by removing alcohol and caffeine from your diet, and by making relaxation before bed a priority.
The Importance Of Maintaining Consistent Habits
If your stress is related to a change in your daily routine, or if your stress levels are negatively impacting your energy, it may become difficult for you to stick to your oral health care routine. In time, a disrupted oral hygiene routine can allow tartar formations to gather, which can remain in place until your next professional dental cleaning. Be firm with yourself about sticking to good brushing and flossing habits every day, even on those days when you might be tempted to give yourself a break.
Celina Family Dentistry Proudly Provides Oral Health Services To The Celina, TX Community
At Celina Family Dentistry, we are proud to have helped so many people in and around our community maintain lovely, healthy smiles. If you would like to learn more about our practice, call our Celina, TX dental office at (214) 851-0130.