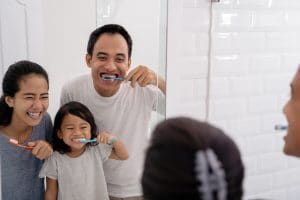 Your kids have much they can learn from you. At an early age, it is important to help them develop the skills for some important self-care practices, including those practices that will help them maintain good oral health. So what should you do to encourage your kids to both learn how to brush and floss their teeth, and gain an understanding of why it is important to do these tasks well? You can provide important instructions by modeling your own oral care routine, and by giving them information about the problems that tooth decay and gum disease can cause. You can also provide them with access to pediatric dental care – at our Celina, TX dentist's office, we can provide kids helpful instructions in addition to supplying beneficial preventive dental services.
Kids Can Require Guidance On Good Oral Hygiene Habits
While the importance of dental health is something learned at an early age, it is not something that kids will innately appreciate. If you want them to grow up with healthy smiles, make sure your children are shown good brushing and flossing habits, and instructed on how they can take care of themselves. You can encourage them to watch you by making oral hygiene a family activity. During these sessions, you can work in information about why you want them to take brushing and flossing seriously.
A Timer Can Help Your Kids Develop Better Brushing Skills
In order to protect kids, and help them avoid restorative dental work, make sure they are cleaning every area of their smile thoroughly. It should take a person at least two minutes to brush if they want to be truly effective at it. With this in mind, you may want to put a timer in the kids' bathroom to help them learn what two minutes of brushing really feels like. As they become more comfortable with this routine, they can be counted on to fully clean their smile without the assistance of the timer.
Could Your Own Brushing And Flossing Habits Use Improvement?
Have you successfully protected yourself against problems that require dental fillings or dental crowns? Do you worry that your own preventive oral hygiene routine is less effective than it should be? You can ask your dentist about what to do to protect your smile at your own oral health exam. The tips you pick up can be imparted to your kids in order to help them maintain their bright, healthy smiles!
Our Celina, TX Dentist's Office Helps Kids And Parents Care For Their Teeth
Our Celina, TX dentist's office is proud to provide a range of oral health services for kids and adults! If you have questions about our practice, you can call Celina Family Dentistry at (214) 851-0130.