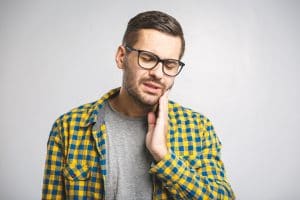 A toothache can feel intrusive at all times, but it can be especially hard to tolerate when you try to eat or drink. If the issue is ignored, the pain can intensify as the health of the tooth worsens. Fortunately, the matter can be addressed with the appropriate restorative dental treatment. Our Celina, TX dentist's office is prepared to take on your problem through root canal therapy. This procedure is recommended whenever there is an issue within your tooth that needs attention. By performing the root canal, your dentist will be able to remove infected tissues and bacteria to stop your pain, and also to stop an infection from spreading further. Once this procedure has taken place, we can make plans to protect the tooth by securing it with a custom dental crown.
Dental Pain Can Warn You Of A Dental Infection
A painful toothache can serve as a warning that your tooth has become infected. Infections can develop whenever a cavity forms and is not treated in time. While decay may not be painful initially, the problem can become difficult to ignore when bacteria enter your pulp and attack the living tissues found within. Infections can also develop when injuries cause internal damages that are not addressed.
Arranging A Root Canal Procedure
When performing a root canal procedure, your dentist will carefully clear away bacteria and damaged tissues from your pulp. At the completion of this task, the pulp is sealed to keep the tooth safe and secure. While people sometimes worry that this treatment is going to be uncomfortable, a root canal will actually remove the infection causing your discomfort. After your work is completed, you can be free of the persistent pain or sensitivity issues that have upset you.
Keeping Your Tooth Safe After Treatment
To protect a tooth after a root canal procedure, a dental crown will cover the tooth. Because the crown is permanent, care is taken to customize it so that it fits without bothering your neighboring teeth. You should be confident enough in its stability and strength to bite and chew with it. While durability is important, our practice understands that the cosmetic effect of treatment is a concern for patients. If you need treatment for a tooth that is harder to hide when you speak or smile, we can discuss using a porcelain material to craft a restoration that imitates your healthy enamel.
Talk To Your Celina, TX Dentist's Office About Your Toothache
At our Celina, TX dentist's office, you can find out why you are struggling with a toothache and also arrange treatment to address it! We have experience with preventive, cosmetic, and restorative services, and we are proud to provide our care to people in and around our community. Find out more by calling Celina Family Dentistry at (214) 851-0130.