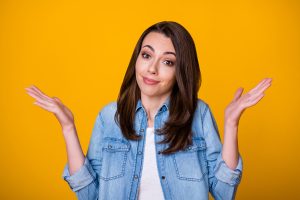 The longer you let an issue with teeth grinding go unaddressed, the more likely you are to suffer noticeable damage to your enamel. That means that even after you deal with bruxism, you can have visible wear and tear that will leave you feeling self-conscious about your smile! Fortunately, cosmetic dental work can address damages that draw unwanted attention. One option that is available is treatment with porcelain veneers. Veneers are custom-made shells that only cover the front surfaces of teeth. When they are in place, they are able to cover concerns with damage as well as naturally occurring trouble with tooth shape and size. They can also help with discoloration, including with internal discoloration that teeth whitening treatments struggle to address.
Bruxism Can Cause Increasing Harm To Your Smile
Bruxism is not a problem to take lightly, as it can lead to trouble with chronic jaw pain as well as dental damage that can lead to cosmetic and even oral health issues. To resolve this problem, which often affects people while they are sleeping, we can provide a custom oral guard to wear at rest. If you have already taken steps to protect your teeth, you may still have some issues with wear and tear to worry about. Depending on how serious the damage is, we can recommend treatment with veneers to hide chips and cracks, and generally restore the shape of teeth that appear worn down.
How Porcelain Veneers Change The Way A Person Looks
Porcelain veneers are custom-made shells that are permanently affixed to your enamel. Their slim size and limited area of coverage means less preparatory work is needed to place them than dental crowns require. The teeth being restored will be measured and undergo limited work to make space for the veneers at an initial visit. When you return, you will have your restorations bonded to your enamel to positively change your smile! With this one procedure, it is possible for us to address a range of concerns and give you a straighter, brighter, and more uniform smile!
Are Veneers Always The Right Approach For Restoring Damaged Teeth?
When too much damage occurs, it will be necessary to provide restorative dental work to take care of teeth affected by grinding. Dental crowns can help by preventing issues with infection or more enamel damage. Porcelain crowns can be used to restore the appearance as well as the condition of your teeth.
Talk To Your Celina, TX Dentist's Office About Receiving Veneers
With porcelain veneers, we can make many positive changes to your appearance! We can use them as a response to dental damage from bruxism, and we can rely on them to help with a number of other issues that might affect you. To find out more, contact your Celina, TX, dentist, Dr. Ganjoor, by calling (214) 851-0130.