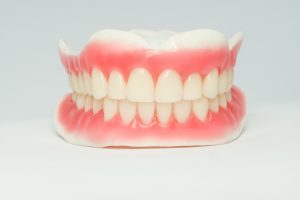 When you lose most of your smile, or even every single tooth, then you may need a prosthetic to avoid serious complications for your smile. Fortunately, our team knows how to design and craft a complete set of dentures to replace every single lost tooth. In today's blog, your Celina, TX, dentist will look at how we create a lifelike new smile.
The Causes and Impacts of Complete Tooth Loss
Individual tooth loss could be the result of an injury or accident, or possibly due to issues like tooth decay and dental infection. However, the complete loss of your smile is often linked to periodontitis, the advanced stage of gum disease. At this stage, the tissue that connect your teeth and gums are broken down, so teeth become loose and fall out. This is actually the most common cause of adult tooth loss. Without your teeth, you have trouble eating solid foods and could end up denying your body essential vitamins and nutrients. In addition, this could make speaking clearly difficult or cause embarrassment, which impacts your social life. As your jawbone ridge breaks down due to the body denying doses of calcium and phosphorus following tooth loss, this could mean you develop an aged appearance!
Designing and Crafting Prosthetics
To help, we start with a through exam using advanced digital technology. We want to understand the cause so your missing teeth and address any underlying causes. Next, we will likely extract any few remaining teeth and take detailed digital images to design and create a set of custom dentures. The finished product will contain a full row of lifelike teeth in an acrylic base that mimics the appearance of gum tissue. We take steps to ensure they provide a balanced bite, a comfortable fit, and of course, a lifelike appearance. Typically, suction keeps the lower arch one in place, and the upper each may need a special adhesive.
Support with Dental Implants
We could also insert multiple dental implants and attach a prosthetic to them. The implants stimulate the growth of jawbone tissue, whjch means your denture last much longer than removable ones, a lifetime in some cases! They also never slip when you eat or speak, and function like natural teeth. If you have any questions about addressing a more advanced stages of tooth loss, then contact our team today. We're ready to help with our removable and implant-supported treatment options.
Talk To Your Celina, TX Dentist's Office About Prosthetics
We want you to eat and smile without complication, which is why we offer solutions for missing teeth. To learn more about how we tackle severe cases of tooth loss, then contact your Celina, TX, dentist, Dr. Ganjoor, by calling (214) 851-0130.