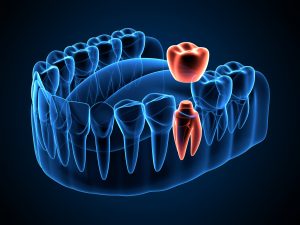 A dental crown is a full restoration that looks natural, and enables our team to address severe issues with the health and function of your smile. In today's blog, your Celina, TX, dentist explains how we craft and place them, and when you smile could benefit from one! We also discuss the materials we use to ensure a natural appearance.
When A Full Restoration Benefits Your Smile
A dental crown covers every part of your tooth above the gum line. For this reason, they make a great option for addressing major cosmetic or restorative issues, restoring smiles to optimal health, function, and beauty. For example, we could use them to reshape a malformed tooth or to mask severe discoloration. They help repair cracked, chipped, or broken teeth, and lengthen worn-down teeth as well. Placement could help remove overall bite balance as well, preventing or addressing issues like TMJ disorder or bruxism (teeth grinding)
If you have missing teeth, they could aid in tooth replacement too. For example, our team could secure a dental bridge to welcome between one and three lost teeth in a row. We could also restore a single tooth dental implant as well!
Lifelike Materials
We want you to smile with confidence, which is why we often use lifelike materials. For the front facing teeth, which are the most visible, we could opt for all-ceramic, which is color-matched to blend with your smile. The material also contains stain-resistant materials too. For the side and rear teeth, which endures greater bite forces and need strong materials, we could use zirconia. Again, the material is shaded to blend with your smile and provide a lifelike option.
Creation and Placement
Each one is custom-made to ensure a perfect fit and a balanced bite. To do so, we begin by administering a numbing agent and then removing structure from the tooth. We take detailed impressions and images with digital technology, and then use the information in a dental lab setting to begin designing and crafting the final product. When you return for a second visit, we check the fit and make any necessary also final adjustments. Finally, we attach the finished product with a powerful bonding agent. With proper care and attention, your new restoration could last for many years to come! If you have any questions about how we craft our custom and lifelike restorations, or if your smile could potentially benefit from the placement of one, then contact our team today.
Talk To Your Celina, TX Dentist's Office About Custom Crowns
Our team wants to help repair and restore your smile with a lifelike and durable option. To find out more about our custom and durable dental restorations, then contact your Celina, TX, dentist, Dr. Newton, by calling (214) 851-0130.