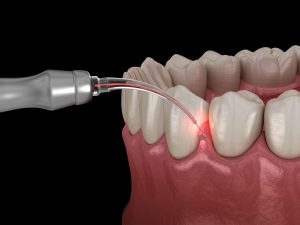 Your teeth are not the only part of your smile that benefits from cosmetic dentistry. We can also offer care to improve the beauty of your gum tissues too. In today's blog, your Celina, TX, dentist discusses how we reshape and trim the gum line with soft tissue dental lasers, and how this offers improvement in only one visit.
The Factors Behind a Gummy Smile
A gummy smile means that you display too much gingival tissue when you smile. As a result, you could feel uncomfortable with the appearance of your smile, and this could make your teeth appear small or uneven. This could be caused by a number of factors, such as complications with the growth and development of your smile. In addition, untreated periodontal disease could mean swelling or even recession, which could further impact the overall beauty of your smile. To correct these issues, we may employ an advanced dental laser that is specially calibrated for soft tissue use!
Soft Tissue Laser Contouring
Instead of using a scalpel, we employ a piece of technology that provides improvement with precision and accuracy, preventing damage to surrounding tissues. We first examine your smile and then carefully mark your gums. With the laser, we then gently trim away excess tissues and reshape the gum line. The process only takes one visit, and you leave with a stunning new smile. You should take a day to rest and avoid activity, and you usually return to normal activities the next day. The use of lasers means there is little need for anesthesia, and little to no bleeding occurs. The risk of infection drops dramatically, and this means a fast-healing period that is free of complication. If you have issues with the amount of gingival tissue you show when you smile, then don't hide your smile, instead contact our team.
Addressing Periodontal Disease
We could also use the lasers to help address more severe cases of periodontal disease. The same technology could help trim away disease tissues, so healthier ones could adhere to the teeth. We could then help manage the disease with routine cleanings every three to four months, so you not only enjoy an attractive smile, but a lowered risk of tooth loss too! If you have any questions about our cosmetic treatment options, or if you would like to start your care soon, then contact our team today to learn more.
Talk To Your Celina, TX Dentist's Office About Gum Contouring
With advanced technology, we can improve the beauty of your smile in one visit! To learn more about improving your smile's beauty with our array of unique cosmetic treatments, then contact your Celina, TX, dentist, Dr. Ganjoor, by calling (214) 851-0130.