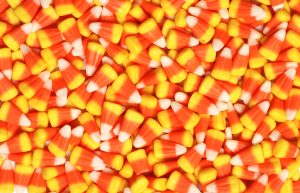 When you have a cavity that forms in your smile, this could lead to painful aches and even the risk of infection! Since sugary treats could increase the risk of cavities, we want to offer tips for safeguarding smiles this Halloween. In today's blog, your Celina, TX, dentist offers tips for protecting teeth during the spookiest time of the year!
Your Halloween Treats and Tooth Decay
All of your favorite treats this time of year are high in sugar. When you eat them, particles could become stuck on the teeth or orthodontics, and become trapped between your teeth. Harmful oral bacteria will then break them down, a process that causes oral acidity to rise and also creates plaque buildup. The buildup then weakens and erodes enamel, which makes the onset of a cavity more likely. Cavities mean aching teeth and for some, the risk of an infection or even premature tooth loss over time! Which is why we suggest a few changes to your normal Halloween routine to protect smiles of all ages.
Makin Smile Healthy Choices
You and your kids should limit how many pieces you eat each day. Try to have them right after dinner or lunch, and drink a glass of water with them to help cleanse your mouth. Be wary of ones that are chewy, like caramel or taffy, as these could become trapped in your smile more easily. You could also give your kids a chance to pick their favorite pieces and trade the rest to you for a toy or money, so they still get treats but enjoy a reduced risk of tooth decay. In addition, when passing our treats, consider opting for individual sealed packages of nuts, trail mix, or even packages of sugar-free gum. You could also avoid sweets altogether with plastic skeletons, spider rings, rubber bats, and other affordable party favors.
Better Dental Hygiene Routines
How you care for your smile each day also reduces cavities. For example, kids and adults alike need to brush their teeth for two minutes in the morning and again at night. Using a fluoride toothpaste helps strengthen the enamel during this process too. Everyone also needs to floss each evening, and make time for a checkup and cleaning visit every six months. Now is a great time to schedule your last visit of 2021, as the hectic holiday season is still a few weeks away. If you have any questions, give us a call today.
Talk To Your Celina, TX Dentist's Office About Staying Cavity-Free
A few simple changes to your daily routine could help your family enjoy better oral health. To learn more about protecting your oral health and strengthening your smile, then contact your Celina, TX, dentist, Dr. Ganjoor, by calling (214) 851-0130.