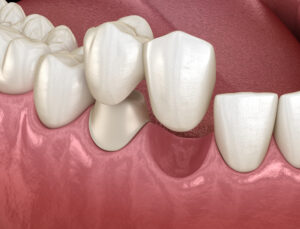 A dental bridge is a method of treating minor tooth loss, usually between one and three in a row. In addition to filling the gaps in your smile, these also offer a lifelike appearance. In today's blog, your Celina, TX, dentist talks about how we handcraft your dental bridges, and the long-term benefits of treating tooth loss.
How We Create Your Prosthetic
We custom-make and handcraft each prosthetic we place for our patients. Doing this ensures they fit comfortably, and that they preserve the balance of your bite to prevent complications. This process also ensures a lifelike appearance, as your new teeth can blend seamlessly with the rest of your smile. For a bridge, we start by administering a numbing agent and gently removing structure from the natural teeth on each side of the gap in your smile. These are known as abutment teeth. We use the images and measurements we take to design and craft the bridge, which will contain new teeth and crowns attached to each end. Often, we craft them from ceramic as this material is durable, but can also be color-matched to mimic the shade of surrounding teeth.
Supporting Your New Teeth
With a traditional bridge, we will place the crowns onto the abutment teeth, which secures the new teeth in place. These last about 10 to 15 years, and need to be replaced as the shape of your jaw ridge changes. However, we could also insert dental implants and attach the crown to them. We then don't need to remove structure from natural teeth, and the implants stimulate the growth of jawbone tissue. As a result, the jaw ridge doesn't change shape and your prosthetic could last for decades, or possibly an entire lifetime.
Long-Term Benefits
Filling the gap in your smile prevents misalignment, which develop as the nearby teeth shift from position. This could not only alter the appearance of your smile, but make the sonnet of tooth decay and gum disease more likely. The gaps also mean changes to bite imbalance, straining your jaw joints and leading to TMJ disorder or chronic teeth grinding (bruxism) in some cases. A full smile ensures you can eat without complication, and speak clearly as well. If you have missing teeth, then talk to our team today about possible solutions. You can start the process now, using your 2021 dental benefits before they expire, and greeting 2022 with a full smile!
Talk To Your Celina, TX Dentist's Office About Dental Prosthetics
We want to help you enjoy good oral health by filling the gaps in your smile. To learn more about replacing your missing teeth with a hand-crafted and lifelike dental bridge, then contact your Celina, TX, dentist, Dr. Ganjoor, by calling (214) 851-0130.