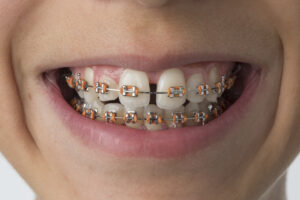 When you or a member of your family have an uneven smile, this could lead to issues with the appearance and health of your smile. To correct their position, you could benefit from orthodontic treatment. In today's blog, your Celina, TX, dentist talks about braces and our ClearCorrect aligners.
The Benefits of Correcting Malocclusion
Dental misalignment could impact how you feel about your smile, causing many to hesitate showing off their smiles when they laugh or pose for pictures. But uneven smiles also make thorough brushing and flossing more difficult, so the risk of tooth decay and gum disease is elevated. The strain on your jaw joints and bite balance could also mean painful disorders like TMD and bruxism (teeth grinding), which further harms your oral health. Strengthening your teeth could correct these issues and offer better oral health!
Braces
First, we will need to carefully examine your smile with digital scanning technology and x-rays to assess the cause and extent of the misalignment. For more serious cases, we could recommend treatment with braces. Essentially, we will attach metal brackets to the front facing side of each tooth. We then connect a thin arch wire with a band. We then adjust tension in the arch wire to shift the teeth into optimal positions, straightening teeth in about two years on average. We could prescribe this for teens and adults alike.
ClearCorrect
We also have another option that is clear and comfortable, and doesn't need brackets and wires at all. Instead, we use digital imaging to obtain images of the smile and create a 3D computer model. We then employ these to design and create a series of clear aligners. They're nearly invisible when worn, and also fit comfortably. A set is worn for 20 to 22 hours a day, over a period of two weeks. We then move on to the next set in the series, and this process continues as your smile is straightened over about a year to 18 months. They can also be removed, which makes eating much easier and simplifies brushing and flossing your teeth during treatment.
If you have any questions about these treatment options, or if you would like a consultation to see which is right for you, then contact our team today to learn more. We want to help you start your journey toward an even, beautiful, and healthy smile in 2022.
Talk To Your Celina, TX Dentist About Treating Misalignment
We would like to help you find the best option to straighten your smile. If you would like to find out more about correcting your crooked or crowded teeth with our metal or clear orthodontics, then contact your Celina, TX, dentist, Dr. Newton, by calling (214) 851-0130.