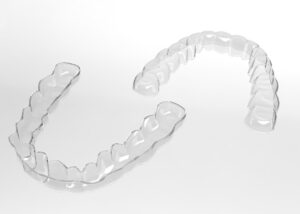 When you have malocclusion, which means misaligned teeth, this could not only change the appearance of your smile, but could also impact oral health in a negative way. In today's blog, your Celina, TX, dentist talks about how ClearCorrect™ provides clear smile correction with custom plastic aligners.
The Causes and Dangers of Malocclusion
Our teeth could become crooked, crowded, or even overlap one another for a number of different reasons. For example, issues with the growth of the jaw, thumb sucking in childhood, premature loss of baby teeth, and impacted permanent teeth could all be potential factors. Even losing teeth in adulthood could lead to uneven smiles! When this happens, thorough brushing and flossing is more difficult, which then increases the risk of cavities and periodontal troubles. The imbalance in your bite could strain the jaw joints and make issues like TMJ disorder and bruxism (teeth grinding) more likely. To protect the health, function, and beauty of your smile, you may need orthodontic treatment.
Designing Your Orthodontic Aligners
With ClearCorrect™, we don't need braces at all. Instead, we will take detailed digital images and impressions of your teeth and use them to create a 3D computer model. This model enables us to design and craft a series of clear plastic aligners. Each one is made for your smile, ensuring a comfortable fit and treatment with precision and accuracy. We could recommend this option for teens and altus with minor misalignment, and will examine your smile to let you know if you're a candidate for ClearCorrect™.
Correcting Your Misalignment
How does the treatment process actually work? Well, to begin you will wear one of the aligner sets for 20 to 22 hours a day, depending on the dentist's recommendations. This will continue for about two weeks. At that point, you will discard them for the next set in the series, and continue this process for about a year in most cases, or up to 18 months if you have a more severe case of misalignment. The aligners will be clear in appearance and prevent gum and cheek irritation. You can also take them out before every meal, so you don't have to change your diet, and also before special occasions or brushing and flossing your teeth. This prevents your treatment from having a negative impact on your daily life.
If you have any questions, then give us a call today to learn more.
Talk To Your Celina, TX Dentist About Custom Appliances
We would love to help you obtain an even smile in as little as one year. If you would like to find out more about our cosmetic approach to dental misalignment, then contact your Celina, TX, dentist, Dr. Ganjoor, by calling (214) 851-0130.