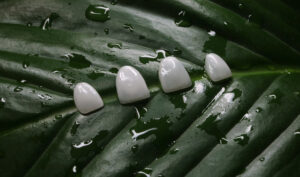 When we place porcelain veneers, we don't just mask teeth stains. Instead, we can instantly transform the shape of the teeth too, and address a variety of esthetic issues all at once. In today's blog, your Celina, TX, dentist talks about the smile makeover potential offered with the placement of one or more porcelain veneers.
Our Porcelain Veneers
What exactly is a porcelain veneer? Essentially, this is a very thin dental restoration made from porcelain. We use porcelain because not only is this material very strong and durable, but it can be color-matched to blend with the rest of your smile, offering a lifelike appearance. When we attach them to the teeth, they instantly change the color and shape of the teeth. For some, this means a total smile makeover in as little as two visits to our office.
Placing Cosmetic Restorations
Each one will be custom-made for your smile, and designed to reflect your unique smile properties. To begin, we will numb the area around the teeth receiving the restorations. We then gently remove a thin layer of enamel to make room for them. Next, we use digital imaging technology to gather a series of images of the teeth, which we combine to craft a 3D model. The model ensures we can design and fabricate restorations that look natural. When your new veneers are ready, we will attach them to the front facing sides of the teeth with a powerful bonding agent. With proper care and attention, they have the potential to offer decades of lifelike smile improvement!
Transformation Potential
When we place them, they cover the front and sides of each tooth. Which means we can use them to reshape misshapen teeth and even repair minor chips and cracks. We can lengthen the teeth worn down by bruxism, and even close embarrassing gaps between the teeth as well. Placement helps mask the permanent teeth stains that may not respond to most teeth whitening procedures. Porcelain veneers can also correct the appearance of minor misalignment, so you have the appearance of a straighter smile without the need for braces or aligners. All of this is possible in two visits, so you can smile with confidence once again.
If you have any questions about our approach to cosmetic dentistry, or if you would like to schedule a consultation with our team, then contact our team today to learn more.
Talk To Your Celina, TX Dentist About Custom Restorations
We're ready to help you enjoy a smile makeover in as little as two visits. If you would like to find out more about the cosmetic treatment options we offer our patients, then contact your Celina, TX, dentist, Dr. Ganjoor, by calling (214) 851-0130.