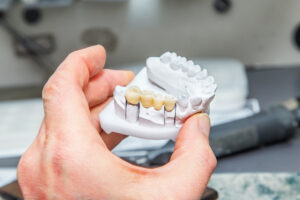 When you suffer from advanced tooth loss, this could impact how your bite functions and lead to issues with your daily life. But our team can help! Whether you have minor tooth loss or total edentulism, we can offer a custom prosthetic. In today's blog, your Celina, TX, dentist talks about our bridges and dentures.
The Importance of Treating Tooth Loss
When you lose teeth, this could mean major complications for the health, function, and beauty of your smile. Gaps could mean nearby teeth drift from position, leading to dental misalignment, which in turn changes your smile's appearance and leaves it vulnerable to issues like tooth decay and gum disease. You could find yourself limited in your meal options, which deprives your smile of nutritional intake. You may also feel embarrassed with the appearance of your smile. Your jawbone will also lose mass and density as the body stops sending nutrients to the area around the missing roots, which means further tooth loss and for many, an older appearance. But with a prosthetic, we could help you avoid these complications.
Dental Bridges
For minor tooth loss, our team could offer a dental bridge. The prosthetic contains new teeth and crowns attached to one or both ends. We use these to address between one and three missing teeth, with the crown portions placed onto the natural teeth on each side of the gap. We create your prosthetic from ceramic, which is very strong and able to be color matched to blend with your smile. The bridge looks natural, fits comfortably, and can offer up to 15 years of tooth replacement in many cases.
Dentures
Dentures can handle more severe cases. A partial addresses multiple gaps in your smiles, even those spread out across the arch. Metal clasps will connect to natural teeth and secure your new denture firmly in place. A full replaces every tooth on one or both arches, held in place with suction or adhesives. We take care to ensure they fit comfortably and offer a more lifelike appearance. On average, they last about 5 to 10 years.
Dental Implants
Dental implants are biocompatible posts that we insert into your jaw, and which act as natural roots. This means your new tooth can last for decades to come, possibly a lifetime! In addition to replacing individual teeth, we can use multiple dental implants to support bridges or even full and partial sets of dentures. If you have any questions about replacing missing teeth, then contact our team.
SCHEDULE YOUR NEXT APPOINTMENT IN CELINA, TX
A full smile is always possible with our custom dental prosthetics. To learn more about the benefits of replacing missing teeth, or to schedule an appointment, give us a call at Celina Family Dentistry at (214) 851-0130!