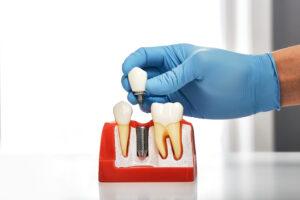 When you lose natural teeth and don't seek immediate replacement, this could allow your jaw to gradually break down, causing the loss of mass and density. This complication means your jaw may not be able to support dental implants! But your Celina, TX, dentist can prepare smiles to receive dental implants with jawbone grafting.
When You Jaw Loses Mass and Density
We could lose teeth to factors like injury or in most cases, the advanced stage of gum disease. When a tooth is lost, the body will respond by suspending the flow of calcium and phosphorus, the nutrients regularly provided to the jaw to keep it whole and strong. Without these nutrients, the bone tissue around the missing root loses mass and density, factors that could mean further tooth loss and an older appearance with time. This could also mean you don't have enough jawbone structure to support one or more dental implants, limiting your tooth replacement options. But our team can strengthen the jaw with grafting, so you're ready to receive dental implants and enjoy a full smile again!
The Grafting Process
With jawbone grafting, we want to fortify the lower jaw that has weakened following tooth loss. To begin, we will carefully examine the smile with digital x-rays to plan the procedure in detail, and to ensure we avoid sinus cavities, nerve tissues, and blood vessels. We then numb the area and offer sedation to keep you comfortable as we apply new structures to the jaw, which will bond with it and provide a base to support dental implants. We could use bone structure taken from other parts of your jaw, such as from the rear of your jaw, your hip, or from your knee. Synthetic tissues could also be used. We will provide detailed aftercare instructions as the area heals.
Placing Your Dental Implants
Once your ridge augmentation heals properly, we can move forward with tooth replacement. We will insert one or more dental implants into the jaw where the teeth have been lost. They bond with the jaw like natural tooth roots, which prevents further breakdown, preserving your smile. We then attach abutments and connect a crown for an individual one, or a portion of prosthetic if you have more advanced cases. We can offer secured bridges and fixed endures to help you smile with confidence!
If you have any questions about how we strengthen your jaw with a grafting procedure, or about how we plan and place dental implants, then contact our team today. We want to help you enjoy your best looking smile, with results that can last decades, if not a lifetime in some cases!
Contact Us About Ridge Augmentation Today
Our team wants to help rebuild the weakened portions of your smile with a ridge augmentation. Schedule a consultation with us today at Celina Family Dentistry at 214-851-0130.