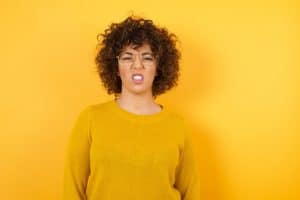 If you struggle with tension and stress in your daily life, you can create potential problems for your physical and dental health. One common stress response is involuntary teeth clenching or grinding. When this occurs, it can put pressure on your jaw joints and muscles that leads to discomfort, as well as dental damage! At our Celina, TX dentist's office, we are able to help patients reduce aches and pains, and we can also talk about how your teeth can be protected. If necessary, we can even perform restorative dental work to take care of any teeth that have become damaged since your issues with grinding began.
Why Should You Worry About A Teeth Grinding Tendency?
Grinding and clenching your teeth can be a natural response to tension, but it can grow into a real concern if you frequently deal with this problem. Over time, the physical toll of this problem, often referred to as bruxism, can create problems with your bite movement. Resulting issues with TMJ disorder can make it difficult to move your jaw because of stiffness or pain, and you can experience recurring headaches. You should also be aware that grinding can wear down your enamel. This can hurt the quality of your smile, and it may even lead to damage that has to be addressed with a restoration!
Relieving Aches And Pains Linked To Bruxism
Ongoing stress and pain from bruxism can become a daily problem, one that you are eager to address. Relieving tension and correcting this problem can reduce your pain levels over time. To help you manage your pain, we can also recommend Botox treatments. While Botox is often considered to be a cosmetic service, its ability to ease muscle tension can help you with pain associated with grinding and clenching!
Restoring Teeth That Look Worn Or Damaged
Should you look into cosmetic dental work for teeth that appear worn or damaged? The effects of teeth grinding can make your smile appear older and less healthy, issues that you can be eager to address. You should know that in some cases, damages will be severe enough to require restorative care. This is necessary when chips or cracks put you at risk for infection, or interfere with your ability to bite and chew without discomfort.
Talk To Your Celina, TX Dentist's Office About Teeth Grinding And Clenching Issues
At our Celina, TX dentist's office, we are prepared to help patients who are struggling with the effects of bruxism. We can talk to you about protecting your teeth, easing physical discomfort, and even about restoring teeth that are already showing signs of damage! This is one of many services that can offer to those who people in and around our community. Find out more by calling Celina Family Dentistry at (214) 851-0130.