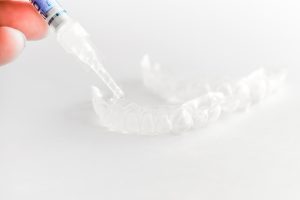 Do you have unsightly stains on your teeth? If so, the cause could be related to poor oral hygiene habits, certain foods and drinks, and other factors. But what can you do? Well, with professional teeth whitening from your Celina, TX, dentist, we can brighten your smile by several shades, and offer tips for keeping your new results strong for months to come.
The Initial Office Visit
The process starts with an initial office visit. During this appointment, we will talk about your goals for your smile and also carefully assess the cause and extent of your discoloration. With this information, we can choose the best option to brighten your smile. For permanent discoloration, we could mask stains with bonding or veneers. However, for most cases we can offer professional teeth whitening, which uses trays and gel to brighten smiles by several shades, offering more dramatic and long-lasting results than over-the-counter options, and also reducing the risk of tooth sensitivity. During your first visit, we will apply a bleaching gel to the teeth and activate it with a bright light. We then create the tray set from detailed digital impressions taken of your smile. After the initial treatment, we send you home with your custom trays and a bleaching gel.
Your Trays and Gels
At home, the plastic trays will be filled with gel and worn each day for between 30 and 45 minutes, depending on the extent of your discoloration. The trays ensure even results and prevents saliva from diluting the strength of the gel. The total treatment time varies, but usually falls between one week or up to ten days. Your teeth could be brightened by up to eight shades, and you then keep your trays and any remaining gel for touchups in the coming months.
Keeping Teeth Bright
To help keep your teeth bright, we suggest you start by brushing your teeth for two minutes in the morning and then again at night. Be sure you use fluoride toothpaste too! Also, make sure you floss every evening. These steps remove food and drink particles from your smile, preventing plaque buildup that would make stains more apparent. You can also be avoiding tobacco products, which stains the teeth, and also cutting back on sugary and starchy foods and drinks which feed plaque-causing bacteria. You should also have your teeth cleaned every six months, so we can remove all plaque and tartar and then polish your smile.
Talk To Your Celina, TX Dentist's Office About A Brighter Smiles
Our team wants to help you obtain a brighter smile. To find out more about our approach to removing teeth stains, then contact your Celina, TX, dentist, Dr. Ganjoor, by calling (214) 851-0130. Along with our whitening procedure, we also have dental bonding and even porcelain veneers.