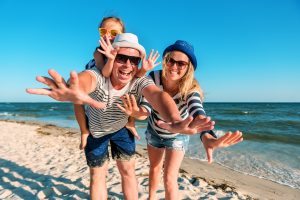 Over the summer break, many families take a break from their usual routines, which could mean lapses in brushing and flossing habits. In addition, kids, teens, and adults may even snack a little more than usual, or forget their floss when they travel. In today's blog, your Celina, TX, dentist explains how to safeguard smiles over summer break with better oral hygiene habits.
Brushing and Flossing
You should maintain the same oral hygiene habits throughout the year, regardless of the season. People of all ages need to start their day by brushing their teeth for at least two minutes. Kids need to use a rice-sized bit of fluoride toothpaste, and adults need a pea-sized bit. You can use a manual or electric toothbrush, but we suggest one with soft bristles to prevent inadvertent enamel damage if you brush too rough.
Every evening, we all need to floss! When you do, you remove the bits of food beyond the reach of a toothbrush. We suggest taking a 20inch length of floss tape, and wrapping each end around one of your thumbs. Hold it tight with your index fingers, and run the tape up and down each side every tooth, dipping beneath the gum line. Adjust your grip to use a clean portion for each tooth. Kids and those with limited dexterity may find a floss pick easier to use.
Healthier Food and Drink Options
Throughout the summer, try to drink more water. While sports drinks hydrate, they contain sugars and acids that are harmful to teeth. Same with fruit juices and smoothies! Instead of eating chips and candy, high in starch and sugar, try to enjoy more fresh fruit and veggies, whole grain crackers, sugar-free gum, and cheeses and yogurts. When we eat healthier options, we limit the severity of plaque buildup, which reduces your risk of developing cavities or gum disease.
Checkup and Cleanings
Make time this summer to stop in for a checkup and cleaning! A routine visit lets us watch for any signs of trouble, offering care to address these concerns before they cause discomfort and threaten your oral health. We also clean your teeth, which removes all plaque and tartar buildup to protect your teeth and gums. If you have any questions about how keeping smiles healthy and string all summer, then contact our team today. We would also love to see you for a checkup and cleaning!
Talk To Your Celina, TX Dentist's Office About Improving Oral Hygiene
We're ready to make sure you and your family know how to avoid issues like tooth decay and gum disease. To learn more about the steps necessary to keep smiles healthy and strong, then contact your Celina, TX, dentist, Dr. Ganjoor, by calling (214) 851-0130.