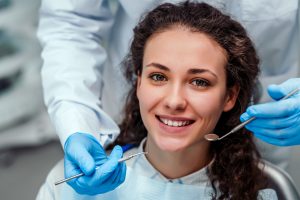 We recently discussed how a cleaning helps keep smiles strong, and why you may need a scaling and root planing if your gums appear sore or red. But what about exams? In today's blog, your Celina, TX, dentist will look at what happens in a checkup that makes exams so valuable for the health and strength of your smile.
Dental Checkup
The checkup should happen at least once every six months, for kids ages three and up and everyone else. With this visit, our team has a chance to take a close look at your smile with advanced digital technology. These digital x-rays and intraoral camera images enable our team to carefully examine your teeth, gums, roots, jaw, and oral structures for possible oral health issues. We can do this chairside, so we walk you through the diagnostic process and help you better understand your smile. Next, we create a personalized treatment plan to address these issues and protect the health, stability, and beauty of your smile.
Our team looks for the early signs of demineralization, treating cavities before your tooth hurts. We also watch for signs of infection, gingivitis, gum disease, and even jaw joint disorders like TMD or bruxism (chronic teeth grinding). The earlier we address these issues, the sooner you enjoy a more comfortable smile.
Oral Cancer Screenings
For adults, we also screen for oral cancer once every year. The screening identifies the issue in the earliest stages, which increases your chance of a full recovery. The fact is, of the 53,000 people estimated to be diagnosed with oral cancer this year, half will succumb to the disease within five years. The high mortality rate is connected to the fact that few people catch the issue in those early stages, which is why an annual screening is so valuable.
Possible Signs of Trouble
We would also like to discuss possible warning signs you should take note of in between visits. If you notice your gums begin to bleed easily, or a tooth feels sensitive or aches, then let us know. We could then address developing oral health issues before they grow more severe and require more extensive care. If you have any questions about our routine checkup visits, or if you would like to schedule one for you or a member of your family, then contact our team today. We want to help you enjoy optimal oral health in 2021!
Talk To Your Celina, TX Dentist's Office About Preventive Visits
We want to make sure you maintain good oral health, and to do so you need to attend exams every six months. To find out more about how we keep an eye on your smile's health, then contact your Celina, TX, dentist, Dr. Ganjoor, by calling (214) 851-0130.