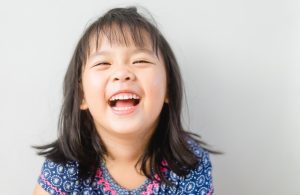 Children need to maintain good oral hygiene habits, just as adults do! Which is why our team offers children's dentistry, helping kids better understand their oral health, and taking steps to safeguard little smiles against tooth decay and more. In today's blog, your Celina, TX, dentist talks about how we treat little smiles.
Discussing Proper Brushing and Flossing
We will always take the time to talk to your child about proper brushing and flossing techniques, so they can better care for their teeth and gums in between our office visits. These actions help control harmful plaque buildup, lowering the risk of cavities and gingivitis, as well as bad breath and teeth stains. As soon as teeth erupt, they need to be cleaned twice a day, and as soon as there are teeth sitting next to one another, they need to be flossed. Like you, children need to brush twice a day for two minutes. Be sure to use a rice-sized bit of fluoride toothpaste. Kids also need to floss, and a pick could be easier to use.
Checkups and Cleanings
Every six months, we want to see your child for a checkup and cleaning, starting at around age two. The checkup lets us watch the smile for common signs of trouble, from tooth decay and infection to developing misalignment or baby teeth that are not falling out on schedule. Addressing issues early helps your little one avoid discomfort. We also clean the teeth thoroughly, which allows us to completely remove all plaque and tartar buildup from the teeth. A cleaning is essential for avoiding cavities, infection, and even gum health issues.
Dental Sealants and Fluoride Treatments
Our team also offers preventive treatments to help lower the risk of cavities. During each checkup visit, our team will apply a fluoride varnish to the teeth, which strengthens the outer enamel. For many kids, reaching the rear teeth when brushing and flossing is difficult, which allows food particles to remain trapped in the molars, leading to cavities. With dental sealants, we apply an acrylic coating to these teeth. The layer prevents food from becoming stuck between the teeth, and they stay in place for years to come. They will wear away gradually with time!
If you have any questions about how to help your children enjoy optimal oral health, or if you would like to schedule a checkup and cleaning visit, then contact our team today.
Talk To Your Celina, TX Dentist's Office About Children's Dentistry
Our team helps kids of all ages enjoy optimal oral health and a better understanding of their oral health. To learn more about our approach to children's dental care, then contact your Celina, TX, dentist, Dr. Ganjoor, by calling (214) 851-0130.