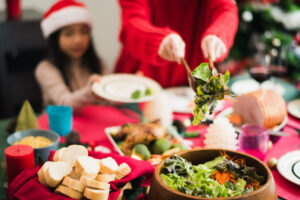 The holiday season is a time of giving and cheer, but also a time of foods high in sugar and starch. Which means a greater risk of tooth decay in the coming weeks and months. In today's blog, your Celina, TX, dentist talks about how you can enjoy your holiday food and also lower your risk of tooth decay.
The Causes of Tooth Decay
How does a cavity form? Well, they occur when the outer layer of tooth enamel no longer protects the sensitive inner portions of your tooth from bacteria. This could happen when a tooth is cracked or chipped, or worn down by bruxism. But most commonly, this happens when poor oral hygiene and a diet high in sugar and starch lead to plaque buildup and weakened tooth enamel. A cavity then forms that will grow and spread with time, leading to worsening discomfort and eventually, an infected tooth.
Better Meal Options
Try to enjoy your sugary or starch-rich holiday foods in moderation. When you consume them, drink a glass of water too, as this helps remove particles of sugar and starch from your smile. You can also add fresh fruits and vegetables to your plate, as some options like carrots, broccoli, and apples could actually scrub away plaque as you consume them.
Brushing and Flossing
Taking time to care for your teeth daily is also essential. You should be sure you brush your teeth in the morning and again at night, for at least two minutes each time and also using a fluoride toothpaste. Fluoride helps strengthen the protective layer of tooth enamel. We also urge you to floss every evening, as flossing between each and every tooth helps trapped food particles beyond the reach of a toothbrush. These actions help lower the risk of cavities, gingivitis, gum disease, and even bad breath and teeth stains!
Checkup and Cleaning Visits
To completely remove plaque and tartar, you need a checkup and cleaning visit. If you haven't had one in the previous six months, then now is a great time to schedule one with our team. We can see you before the holidays become too hectic, and also let you use your remaining 2021 dental benefits before they expire at the end of December. If you have any questions about protecting your family's smiles during the holiday season, or if you would like to schedule a visit, then please contact our team today.
Talk To Your Celina, TX Dentist's Office About Preventing Tooth Decay
We're ready to help you avoid the onset of dental cavities and other oral health issues. To learn more about how our team helps safeguard your smiles with a preventive approach to dental care, then contact your Celina, TX, dentist, Dr. Ganjoor, by calling (214) 851-0130.