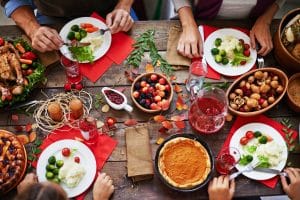 We may not be enjoying the usual Thanksgiving celebration, but that doesn't mean we won't be enjoying our favorite dishes! However, since many of our holiday favorites contain high amounts of sugar and starch, they could lead to the onset of tooth decay. In today's blog, your Celina, TX, dentist is explaining how you can avoid dental cavities!
The Dangers Posed by Sugar and Starch
Sugar is a major part of your favorite sides and desserts, from cranberry sauce to pie. Starch is often found in your favorite designs too, such as yams, mashed potatoes, stuffing, and biscuits or muffins. These two very different ingredients both tend to cling to the teeth or become trapped between them. When bacteria break them down, this creates a rise in oral acidity and then coats the teeth in plaque buildup. Plaque could cause demineralization in the enamel, leading to cavities. To enjoy your meal without putting your smile at risk, you need to make a few healthy choices.
Steps to Keep Teeth Healthy
First, try to practice moderation when consuming sugary or starchy meal options. Next, drink a glass of water with your meal. Water is free of harmful acids or sugars, and helps cleanse the mouth as you drink. You could also consider adding a few fresh veggies and fruits, as options like carrots, broccoli, and apples help scrub the teeth as you consume them. When you finish your dinner, you might consider excusing yourself to floss thoroughly and remove any trapped bits of food.
Be Sure You Brush and Floss
Whether you're staying home or heading out of town, you need to continue brushing and flossing as you normally would. When you brush, you help remove food particles. Everyone needs to brush their teeth when they wake and again before bed, for at least two minutes per session. Flossing is also vital, and should be done nightly prior to sleep as well. Flossing removes everything beyond the reach of your toothbrush's bristles. You may also consider scheduling a dental cleaning visit as well. A cleaning is a chance to remove all plaque before the year ends, so you start 2021 with a healthier smile and out your remaining dental insurance benefits to use before they expire!
COVID-19 Concerns
To keep you and your family members safe, limit yourself to small gatherings with immediate family only. Wear a mask when outside your home, and wash your hands frequently. If you have any questions about our cleaning visits, then contact our team today.
We Want You to Avoid Cavities
At Celina Family Dentistry, we want to help you enjoy your holiday season without putting your smile in harm's way. Contact our Celina, Texas office at (214) 851-0130 to learn more about avoiding the onset of tooth decay.