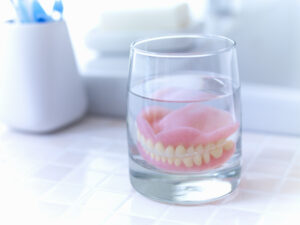 When you lose the majority of your smile, then this could mean a poorer quality of life. However, your Celina, TX, dentist could address total tooth loss with a lifelike denture, one custom-made for your smile. In today's blog, we're going to discuss how we address advanced cases of missing teeth.
The Dangers of Losing Your Smile
When people lose a significant amount of their teeth, this could be due to a serious injury, or possibly severe tooth decay and infection. But the most likely culprit is periodontitis. The advanced stage of gum disease, this is the number one cause of tooth loss and could even complicate the tooth replacement process unless addressed. You should seek a prosthetic, as advanced tooth loss could mean trouble eating, difficulty sleeping, and embarrassment in social situations. You could also gain an older appearance as the jaw gradually breaks down losing mass and density following tooth loss. 
Custom Complete Dentures
A full set of dentures replace every tooth on one or both arches. Each one we offer is custom-made to ensure a proper fit and of course, a lifelike appearance. We begin by examining your smile to understand the factors behind your tooth loss, so we can treat underlying oral health issues. We also take detailed digital impressions to create a 3D computer model of your smile. This enables us to design and craft the dentures. The prosthetic will have a full row of durable and lifelike teeth set into an acrylic base, which looks like gum tissues. The removable options will be held in place with suction or a special adhesive. These last about 5 to 10 years. 
Support with Dental Implants
Our team could also support them with dental implants. We place several implant posts into each arch, which the body accepts as natural roots. This preserves the jawbone and prevents the break down that causes an aged appearance. We then attach the dentures to them. These will not be removable and could last for decades, maybe even a lifetime in some cases. They also never slip, and again, will offer the chance to enjoy your favorite foods again. If you have any questions about how we address more severe cases of tooth loss, or about our dentures in particular, then contact our team to learn more. We would love to help you enjoy a complete smile again, so you can eat your favorite foods and smile with confidence. 
Talk To Your Celina, TX Dentist About a New Smile
A new smile is possible, even if you lose all of your natural teeth. If you would like to find out more about our prosthetics, contact your Celina, TX, dentist, Dr. Ganjoor, by calling (214) 851-0130.