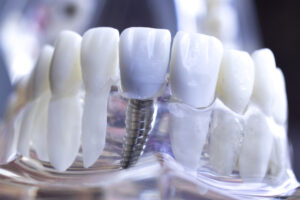 We recently discussed the benefits of placing dental implants, addressing tooth loss and preserving your smile. In many cases, this takes two visits with months in between for the placement area to heal. However, your Celina, TX, dentist could also place dental implants same-day!
The Loss of Jawbone Density
When we lose our teeth, the body will take note of a missing tooth root. In response, the body suspends the flow of calcium and phosphorus to the jawbone around the missing tooth, or diverts it to other parts of the smile. Without these nutrients, the bone tissue loses mass and density, and the resulting collapse could cause further tooth loss and a prematurely aged appearance Unfortunately, the breakdown also means your smile can no longer support a dental implant without first undergoing grafting or sinus lifts to create new tissue. However, same-day dental implants could offer an alternative!
Same-Day Placement
With same-day placement, our team will examine your smile and create a 3D computer impression, which we use to plan and guide the placement of unique dental implants into the jaw. There could be as little as four posts per arch, used to support a full denture. We then add abutments to the post and attach the prosthetic. Instead of taking multiple visits, this is done in the same sitting. You leave with a full smile! The implants then begin to bond with the jawbone, which prevents the further loss of mass and density. You then enjoy a full smile in one visit, without having to undergo procedures to rebuild the jaw.
Restoring Your New Teeth
The denture portion, the part people see when you smile, will also be custom-made. We want a prosthetic that fits comfortably, looks natural, and restores your ability to smile with confidence and eat your favorite foods again. You don't remove them for cleaning and soaking, and will discuss better oral habits to protect your new smile. For many, these could last for decades, possibly a lifetime, with proper care and attention. If you have any questions about how we address your missing teeth, or about possible treatment options, then contact our team to learn more. We want to help you maintain a full and functional smile, one that looks great and lasts for years to come.
Talk To Your Celina, TX Dentist About Same-Day Placement
We would like to help you find the best solution to your missing teeth, possibly in one visit too. Don't let tooth loss, even a substantial case, lead to problems with your quality of life. If you would like to find out more about out solutions for tooth loss, then contact your Celina, TX, dentist, Dr. Newton, by calling (214) 851-0130.