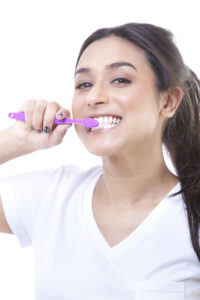 Toothaches are often caused by tooth decay, a common oral health issue that could lead to infection or even tooth loss in some cases. But daily care from home could help prevent toothaches and cavities! In today's blog, your Celina, TX, dentist wants to offer tips for better brushing and flossing each and every day.
Tooth Decay and Toothaches
When our teeth feel sensitive during meals, or when a toothache develops that doesn't pass after a few hours, this could mean you have a cavity that needs attention. Cavities form when harmful oral bacteria enter the dentin, or the layers of tooth structure beneath the outer enamel. This could occur due to poor oral hygiene, which allows plaque buildup to become severe and weekend outer enamel. An injury or teeth grinding could also compromise the enamel. The cavity will continue to grow and spread unless treated, eventually causing an infection or even leading to tooth loss! But routine care, combined with regular six-month checkups and cleanings at our office, could help protect your smile.
Brushing Teeth
We should brush our teeth every single day, twice in fact! The first visit happens in the morning, and then next in the evening before bed. Each session should take at least two minutes to ensure you're properly reaching all parts of your smile. We recommend one with soft bristles to prevent inadvertent enamel erosion or gum recession if you brush too hard. Be sure you use a toothpaste with fluoride toothpaste, which will help strengthen the outer enamel and prevent the onset of cavities. This is recommended for people of all ages, from kids to adults!
Flossing Daily
Even more important than daily brushing is flossing every evening. Flossing is a chance to reach and remove trapped food particles that could be beyond the reach of a toothbrush. For children, a pick is often easier to use, especially if you have to assist them. But adults can use tape and a water flosser as preferred. You should run the floss up and down each side of every tooth, and dip below the gum line to remove trapped food particles. Doing this properly could help lower the risk of gingivitis and gum disease, and also fight bad breath too.
If you have any questions about caring for your smile each day, or about our approach to preventive care with checkups and cleanings, then give us a call today.
Talk To Your Celina, TX Dentist About Oral Hygiene
Our team wants to offer tips for reducing your risk of tooth decay. If you would like to find out more about keeping your smile healthy and whole from home, then contact your Celina, TX, dentist, Dr. Ganjoor, by calling (214) 851-0130.