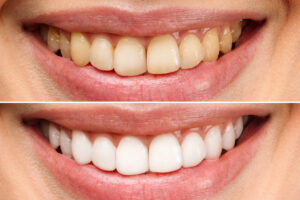 If you have stains on your teeth, this could impact the beauty of your smile and your social interactions. But what if we could brighten your smile, possibly in one visit? In today's blog, your Celina, TX, dentist talks about how we use our in-office and at-home teeth whitening procedures to remove stains and prevent tooth sensitivity.
The Causes of Stained Teeth
Unsightly discoloration could develop on our teeth for a number of reasons. For example, poor oral hygiene could allow plaque buildup to coat the teeth, making stains more visible. This could be caused by improper brushing and flossing, and foods/drinks high in sugar and starch. Smoking cigarettes and using other tobacco products stain the teeth as well (and increase the risk of several cancers). Drinks with dark pigments, such as soda, red wine, coffee, and tea could be a factor, as could infrequent dental cleanings. The causes vary, and we will take them into account before recommending a treatment option.
In-Office Cosmetic Treatment
Our in-office teeth whitening option is great if you need results fast, as the entire process only takes one visit. We start by adding a protective layer to your lips and gums, and then applying the bleaching gel to the teeth. A special light will be used to activate the bleaching ingredients in the gel, and the entire treatment process could take as little as one to two hours. For many, teeth could be up to eight shades brighter. If you have permanent teeth stains, which form beneath the enamel and are difficult to remove with whitening, we could discuss masking them in-office with dental bonding or porcelain veneers.
Brightening Your Smile at Home
We could also whiten your teeth from home too! This helps address more severe discoloration, and the process limits tooth sensitivity afterward. Essentially, you will visit our office and we will create a set of custom plastic trays. These fit comfortably over your teeth. We send you home with these trays and a bleaching gel. The gel is then added to the trays, and the trays worn for between 30 and 45 minutes a day, over a period of one to two weeks. The gel then breaks up and removes stains, offering teeth several shades brighter. The trays and remaining gel are then yours to use for touchups months down the road. If you have any questions, then give us a call today.
Talk To Your Celina, TX Dentist About Cosmetic Dentistry
We would like to enjoy a smile that is bright and beautiful again, then give us a call. If you would like to find out more about cosmetic treatment options, then contact your Celina, TX, dentist, Dr. Ganjoor, by calling (214) 851-0130.