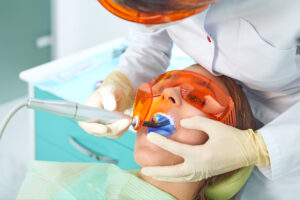 When you have a cavity, this could lead to major discomfort and even the onset of a dental infection. Which is why a filling is so necessary. But instead of a metal option, our team can help with a tooth-colored one too. In today's blog, your Celina, TX, dentist talks about dental fillings and how to help prevent cavities.
When a Tooth Needs One
We recommend these dental restorations for teeth with cavities, as tooth decay will grow with time and even lead to infections. The cavity could be caused by poor oral hygiene, which allows plaque buildup to accumulate and weaken tooth enamel, leading to decay. Injury to the teeth or even teeth grinding could be an issue too. If you attend regular checkup and cleaning visits, then we can likely identify them in the earliest stages. Otherwise, you may not know you need treatment until your tooth begins to ache or feel sensitive. When this happens, let us know right away!
A Tooth-Colored Approach
We will examine the tooth and if we find a cavity present, we can numb the tooth with a local anesthetic. We then remove decay from the tooth and prepare and apply the filling material. A blend of acrylic-like and glass-like particles, this can be shaded to blend with your tooth and is safe for people of all ages. We shape and sculpt the composite resin filling material as we cure the tooth underneath a light. The last step is to polish the tooth for a brighter appearance. The whole process takes only one visit, and helps you enjoy a healthy, comfortable, and attractive smile.
Taking Preventive Measures
You could also take steps to help limit the onset of cavities down the road. For example, you can brush your teeth twice a day for two minutes, and use a fluoride toothpaste when you do, to help remove trapped food particles. You also need to floss thoroughly every evening. These actions remove trapped food particles and limit the severity of plaque and buildup. Since the bacteria that cause buildup like to break down particles of sugar and starch, a healthy diet is beneficial too. Finally, be sure you attend a checkup and cleaning visit with us every six months, so we can watch for the earliest signs of tooth decay, and also remove all plaque and tartar completely to prevent weakened tooth enamel.
If you have any questions, then give our team a call today.
Talk To Your Celina, TX Dentist About Lifelike Dental Restorations
We want to stop your discomfort and offer lifelike results. If you would like to find out more about our approach to restorative dental care, then contact your Celina, TX, dentist, Dr. Newton, by calling (214) 851-0130.