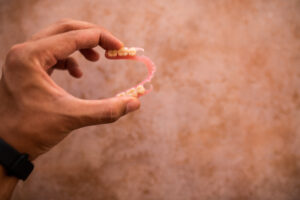 When you lose more than one tooth, and have gaps left behind at different parts of your smile, then you may need more than a bridge or individual dental implant. Our team can help address these more complicated cases with a set of partial dentures. In today's blog, your Celina, TX, dentist talks about our custom prosthetics.
The Dangers of Complicated Tooth Loss
When people come to us with multiple gaps in their smile that are spread out across the arch, we can restore function, health, and beauty again with a dental prosthetic. A partial is designed to address the complicated cases, addressing situations where a bridge isn't enough, but a complete denture isn't necessary yet. Without treatment, this could lead to misalignment as the teeth shift from position, or the strain on your smile could make TMJ disorder and bruxism (teeth grinding) more likely to develop. There could also be problems speaking clearly or eating your favorite foods too! Don't live with a poor quality of life, talk to our team about possible solutions.
Designing a Partial
Each one is custom-made to ensure a comfortable fit, a lifelike appearance, and a properly balanced smile. To begin, we will carefully examine the smile to see if underlying oral health issues need treatment and to make sure there are not diseased or severely decayed teeth that need extraction. Once your smile is prepared, we will take detailed digital images, which we combine to craft a 3D impression. In a dental lab setting, we use the impression to design and craft the denture.
Securing Your New Teeth
The prosthetic will contain new teeth set in an acrylic base, which is designed to mimic the appearance of gum tissue. The teeth will be crafted from ceramic so they can absorb daily bite forces and blend with the smile too. There will also be metal claps that will attach to natural teeth to secure the denture firmly in place. Your prosthetic can last about 5 to 10 years on average, and will need to be removed for cleaning and soaking periodically. Remember, we can help you smile with confidence again and avoid the major oral health impacts of untreated tooth loss.
If you have any questions about how we design and secure a partial denture, or about our bridges and fulls, then contact our team today to learn more. We're ready to help you enjoy a full smile again!
Do You Have Questions About Prosthetic Dental Care?
Our team is ready to address your tooth loss and restore function, health, and beauty to your smile again. To learn more about prosthetic dentistry, then please contact your Celina, TX, dentist, Dr. Newton, by calling (214) 851-0130.