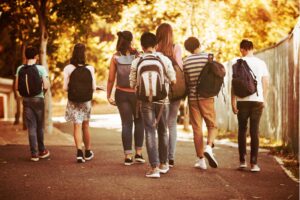 You have a lot to do to get your kids ready for a new school year, from getting new supplies to new clothes. But you shouldn't forget about your child's smile! A back-to-school visit can help children begin a new school year with a healthier smile. In today's blog, your Celina, TX, dentist talks about children's dentistry.
Getting Ready for Classes
When the school year begins, schedules will become much more hectic, with a full day of classes and extracurricular activities after school. So, missing these for dental appointments could complicate things. Which is why an appointment before classes or in the early part of the semester is so helpful. This helps your children start classes with healthier smiles, as we can often address concerns like tooth decay in one visit.
Dental Checkups and Professional Cleanings
The dental checkup is a chance for our team to take a close look at the smile for signs of tooth decay, gingivitis, bruxism, and other common issues that impact little smiles. We also make sure there aren't complications that could lead to dental misalignment without intervention. As a result, we can help protect them from infection or the risk of tooth loss, so they can smile with confidence! To make a diagnosis with accuracy and precision, our team will provide care with digital x-rays and intraoral cameras.
In the same visit, our team will also clean the teeth thoroughly. The dental cleaning means we thoroughly remove all plaque and tartar from the teeth with an ultrasonic scaling device and a manual tool. Doing so helps lower the risk of cavities and periodontal issues, as well as bad breath and teeth stains. Kids can continue to brush and floss daily to limit how much plaque can develop until the next cleaning visit.
Fluoride and Dental Sealants
We also have preventive treatments that can help strengthen smiles and limit the risk of cavities during the school year. As part of each checkup visit, our team will apply a fluoride gel to the teeth, which fortifies the outer layers of enamel. In addition, our team could apply dental sealants to the rear teeth. The sealants help cover the teeth kids have difficulty reaching when they brush and floss, the rear molars. The sealants stay in place for up to ten years and will wear away gradually with time. Even as they do, they will cling the longest to the more vulnerable parts of the teeth!
Do You Have Questions About Children's Dentistry?
We want to help kids start classes with a stronger smile, then please contact your Celina, TX, dentist, Dr. Newton, by calling (214) 851-0130. Our team wants to help kids enjoy better oral health!