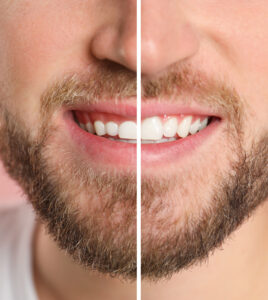 When we talk about cosmetic treatment, we often refer to care for the teeth, such as whitening and dental bonding. But what about the gums? When gummy smiles cause issues with your smile's appearance, our team could help with a unique treatment. In today's blog, your Celina, TX, dentist talks about gum contouring.
The Factors Behind a Gummy Smile
When issues arise with the growth and development of your smile, you could display too much gum tissue when you smile. Known as a gummy smile, this could make your teeth appear short and uneven, and no amount of whitening, bonding, or veneers can correct this appearance. Instead, you need to actually reshape the gum line to improve symmetry and remove excess tissue. Which is why you may benefit from a contouring procedure.
Periodontal Disease
Swelling and other complications related to periodontal disease could also impact the appearance of your smile. Your teeth could appear short, but recession could also make them appear long. While periodontal disease cannot be cured, we could use contouring to remove diseased tissues and allow healthy ones to adhere to the teeth, or to prepare the smile for gum grafting or other advanced surgical procedures. This helps us easily manage the disease moving forward with cleanings every three to four months, and you enjoy a more attractive smile. You also avoid the risk of tooth loss, which can occur when the disease remains untreated and reaches a more advanced stage.
Treatment with Laser Technology
The contouring process involves using a specially calibrated dental laser, one designed specifically to address soft tissues. We will first examine your smile and mark the portions of the gums that need to be removed or reshaped. The laser then allows us to target these portions with precision and accuracy. We remove the excessive tissue and then gently reshape the gum line for better esthetics. The laser technology means there is little to no risk of bleeding and infection afterward, and no swelling either. The procedure also doesn't require the use of anesthesia, and you can return to normal activities after only a day of rest.
If you have any questions about gum contouring or treatment for periodontal disease, then contact our team today to learn more. We also offer contouring for the teeth to address minor esthetic issues with the overall shape and surfaces.
Talk To Your Celina, TX Dentist About Cosmetic Contouring
We would like to help you enjoy a smile that you'll never hesitate to show off to the world using cosmetic dentistry. If you would like to learn more about improving the health and beauty of your smile with advanced technology, contact your Celina, TX, dentist, Dr. Newton, by calling (214) 851-0130.