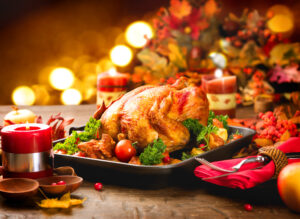 Thanksgiving is a great holiday to get together with friends and family and sit down for a feast. But unfortunately, this feast is often high in starch and sugar, which could mean an increased risk of tooth decay. In today's blog, your Celina, TX, dentist talks about taking steps to keep smiles free of tooth decay.
The Link Between Thanksgiving and Cavities
Many of our favorite dishes, such as stuffing, mashed potatoes, sweet potato casserole, and biscuits and rolls, are all high in starch. Our desserts, like cobbler, pie, cake, and cookies, are high in sugar. These two ingredients often cling to the outside of the teeth, or become trapped between them. Harmful oral bacteria will then break them down, a process that creates plaque buildup. Plaque coats the teeth and weakens outer enamel to make cavities possible. Which is why we need to take steps to help safeguard your smiles during our holiday meals.
Better Oral Hygiene Habits
First, be sure you enjoy your starch heavy and sugar-rich items in moderation. You can also balance your plate with healthier options, like fresh fruit and vegetables. Some options, like fresh carrots, broccoli, and apples, could help scrub away particles of food. In addition, you can drink water with your meal to help rinse away trapped food particles. Once your meal is done, consider excusing yourself to floss thoroughly.
You also need to enjoy good oral hygiene habits, such as starting and ending your day by brushing your teeth for two minutes each time, and using a fluoride toothpaste to help strengthen the enamel. Before bed, you also need to floss, as this removes what a toothbrush alone cannot reach.
Your Last Checkup of 2022
You should also consider scheduling a visit with our team before the year ends. We can perform a checkup and find out if you need treatment, so we can help you start 2023 with a healthier and stronger smile. We also clean the teeth in the same visit, removing all plaque and tartar to fight cavities and gum disease.  A visit now is a chance to undergo care before the hectic holiday season begins, and before your 2022 dental insurance benefits expire. If you have any questions about our checkups, or about steps to avoid the onset of tooth decay during the holidays, then contact our team today to get started. We want to help you smile with confidence, this year and the next!
Do You Have Any Questions?
We're ready to help you enjoy the holiday season without leaving your smile vulnerable to tooth decay. To learn more about caring for your smile, or to schedule an appointment, contact your Celina, TX, dentist, Dr. Newton, by calling (214) 851-0130.