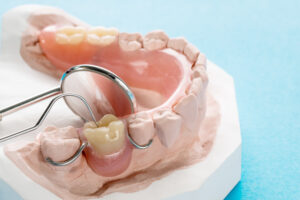 When you lose several teeth across your smile, then a bridge may not be enough. Instead, you may need a partial to restore function and beauty to your smile. In today's blog, your Celina, TX, dentist talks about how we can employ partials to transform the function and appearance of the smile, so you never hesitate to smile again!
The Impact of Several Missing Teeth
When you have lost teeth across your arch, this could cause your remaining ones to drift from position. The resulting misalignment could increase the risk of tooth decay and gum disease as brushing and flossing is now more difficult. The changes to your bite balance could also strain the jaw joints, so complications like TMJ disorder and bruxism (teeth grinding) could develop and cause painful symptoms. You could also have trouble eating a variety of different foods, and speaking clearly could be problematic as well. Which is why to preserve the health and beauty of your smile, you need to seek tooth replacement.
Designing a Partial Prosthetic
To begin, our team will take detailed digital images of your smile to assess the extent of your tooth loss. If you have underlying issues like gum disease, we could recommend treatment to manage the disease and preserve the rest of your smile. In a dental lab, we will use the digital images and impressions to design and fabricate your prosthetic. The partial will contain new teeth in an acrylic base, designed to fit snugly in the gaps in your smile. The base will be made from acrylic to look like gum tissue. The teeth are often crafted from materials like ceramic, which we can shade to blend with your smile. Ceramic also absorbs daily bite forces with ease.
Securing Your New Smile
For a removable option, there will be metal clasps that attach to natural teeth and keep your partial firmly in place. These will need to be replaced every five years or so as the jaw ridge gradually changes shape. However, we could also secure the prosthetic with dental implants. Since these act as new roots and prevent changes to the jaw ridge, your new prosthetic could stay in place for decades or even a lifetime. If you have any questions about how we treat missing teeth or if you would like to use your 2022 dental insurance benefits before they're gone, then contact our team to learn more. We can help you end the year with a full and beautiful smile!
Ready to Enjoy a Full Smile Again?
If you want to learn more about our custom and lifelike dental prosthetics, or would like to schedule an appointment, please contact your Celina, TX, dentist, Dr. Ganjoor, by calling (214) 851-0130.