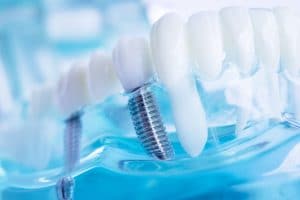 Don't let tooth loss lead to problems with the health, function, and even the beauty of your smile and facial structure. Instead, you should talk to your Celina, TX, dentist about possible solutions. In today's blog, we're looking at not only how we replace lost teeth with dental implants, but how we can often do so in just one visit!
The Causes of Missing Teeth
Why do we lose our teeth in adulthood anyway? A number of factors could be responsible. For example, an injury could cause one or more teeth to become knocked-out. Advanced decay or infection could cause them to fall out, or require extraction to prevent the spread of infection. However, the most common cause is periodontitis, the advanced stage of gum disease. This stage of the disease actually attacks and destroys the tissues that connects your teeth and gums. Teeth become loose and fall out, and over time tooth loss could increase the risk of an aged appearance, loss of jawbone tissue, TMJ disorder and bruxism, and trouble eating or speaking clearly.
The Implant Benefits
A dental implant doesn't need crowns, clasps, or suction to stay in place. Instead, each implant post is made from titanium, a biocompatible material, and bonds with the jawbone once we insert them via oral surgery. They then last for decades, possibly a lifetime, and prevent changes to your facial structure and restore the balance of your smile. Typically, once we insert the posts there is a waiting periods of three to four months before we move forward with adding an abutment and restoration or prosthetic to complete your smile. This allows the osseointegration process to take place, which secures them for so long. Fortunately, we now have an alternative!
The Same-Day Process
With the same-day process, we examine your smile to make sure you qualify, and then we extract any necessary teeth and insert the implant or implants into the jaw. Next, we add the abutment and crown, or attach a prosthetic, in the same sitting. When you leave, you do so with a full smile, instead of waiting months to see a smile that fills you with confidence. Afterward, we can offer tips on protecting your teeth new, as well as any remaining natural ones. If you have any questions about treating missing teeth with implant technology, then contact our team today. We want to help you start 2021 with a stunning new smile!
Talk To Your Celina, TX Dentist's Office About Implant Dentistry
Our team would like to help you maintain optimal oral health by addressing serious concerns, such as tooth loss, with advanced technology and personalized treatment. To find out more about treating tooth loss, contact your Celina, TX, dentist, Dr. Ganjoor, by calling (214) 851-0130.