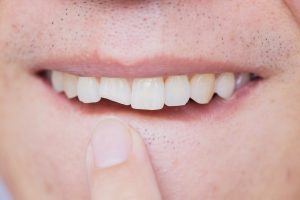 When you have issues with not just the color, but also the shape and surface of your teeth, then you may need more than teeth whitening. Fortunately, your Celina, TX, dentist can transform the shape of your smile, often in just one visit, with dental bonding and contouring. In today's blog, find out how we correct smiles in one sitting.
The Dental Bonding Process
The bonding process involves repairing or restoring tooth with a composite resin material, the same we use in our tooth-colored dental fillings. The material is metal-free, and we color-match it to blend with your smile. Placement involves first administering a numbing agent and then removing any decay and cleaning the tooth. We may etch the outer surface too. The prepared material will then be applied in several layers. As the composite resin is cured under a light, we sculpt and mold the tooth. The final step involves thoroughly polishing the tooth for a more attractive appearance. The procedure could be used to mask permanent teeth stains, the kind that may not respond to teeth whitening otherwise. Placement could also help repair minor chips and cracks, lengthen worn down tooth structure, and close gaps or black triangle spaces in between the teeth. The entire process only takes one sitting to complete!
Contouring Your Smile
We also have another single visit option, one that doesn't involve adding material to the tooth at all. With contouring, we gently sand and buff the outer structure to help correct minor esthetic issues. For example, we could repair minor chips, remove pits and grooves in the outer surface, and smooth out rough patches too. Contouring helps reshape overly large teeth, remove jagged edges, and dull overly sharp or pointed portions of your smile.
Other Cosmetic Solutions
We could combine these with other cosmetic options to help offer a smile makeover. For example, we could whiten teeth to ensure the newly repaired ones reflect your brightest smile. We could reserve veneers for the front-facing teeth and use bonding for the side and rear teeth. With these steps, you could obtain a complete smile makeover in as little as two visits. If you have any questions about cosmetic dentistry, or about how we repair smiles in only one visit, then contact our team today to learn more. We would love to help you obtain your best smile!
Talk To Your Celina, TX Dentist's Office About Cosmetic Dentistry
Our team is ready to help address esthetic issues with your smile. To find out more about our approach to transforming your smile, then contact your Celina, TX, dentist, Dr. Ganjoor, by calling (214) 851-0130. We want to help you obtain a bright and attractive smile, in just one visit in many cases!