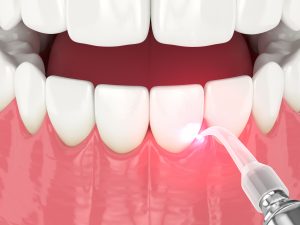 We often employ advanced technology to help diagnose and treat smiles, including the use of digital x-rays and intraoral cameras. But did you know that we also employ advanced dental lasers? In today's blog, your Celina, TX, dentist will explain how we use three different forms of the Fotona dental lasers to address an array of oral health problems.
The Benefits of a Laser
A dental laser uses a concentrated beam of light to target and treat soft tissue concerns with greater precision and accuracy than a scalpel. Using lasers means a significantly lowered risk of bleeding and infection, and the precision aspect prevents damage to surrounding healthy tissues. There is usually no need for anesthesia or sutures, and the area heals quickly. In fact, most people return to normal activities after a day of rest.
LipLase™
For facial esthetics, we can use the LipLase™ system to provide fuller and smoother lips without any injectables. The technology actually helps your body build its own collagen, while also balancing the symmetry of the upper and lower lips, with more pronounced lines. The procedure doesn't take very long to complete, and the results could last for several months to come.
NightLase®
Did you know that we could use this advanced technology to also tackle sleep disorders like obstructive sleep apnea (OSA)? Wirth OSA, you stop breathing for brief periods as soft tissues collapse and block airflow. The brain interrupts your sleep cycle to help you breathe again, leaving you feeling exhausted the next day. The administration of the treatments, usually three to five sessions, are performed 21 days apart. They help prevent the collapse of soft tissues that causes OSA. The results of these treatments will last between a year and 18 months on average. With follow-ups performed every year, this prevents OSA episodes and promotes the production of collagen.
SmoothLase®
We also have a non-injectable solution to help improve aged skin and facial esthetics too! The laser actually helps tighten the skin inside your mouth and promotes collagen production. This helps smooth our lines and wrinkles, and improves sagging areas. Signs of aging around the mouth, chin, cheeks, jawline, and under eye area will be improved, and the effects could last for several months. If you have any questions about these facial esthetic treatments, or if you would like to schedule a consultation, then contact our team today to learn more.
Talk To Your Celina, TX Dentist's Office About Our Dental Technology
We would like to offer treatment with better precision and accuracy. To learn more about how our team helps improve your oral health with advanced technology, then contact your Celina, TX, dentist, Dr. Ganjoor, by calling (214) 851-0130.